Please welcome the Tenth Anniversary Edition of Food Politics.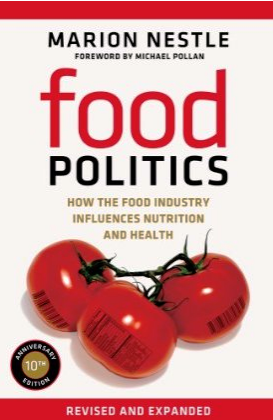 It's comes with an exceptionally gracious Foreword by Michael Pollan.  I wrote a new Preface and a lengthy Afterword to bring it all up to date.
Doing the Afterword gave me a chance to think about what's happened in the food movement over the past ten (eleven, really, but who's counting) years since Food Politics first appeared in 2002.
Indeed, a great deal has happened, and much of it good, thanks to everyone who is working to create a healthier and more sustainable food system.
Read and enjoy!
Next public appearance
My lecture is sponsored by the McCoy Family Center for Ethics and Society:  "Advocacy for Healthier Food Systems: From Clicks to Occupy."  7:30 p.m. at Cubberley Auditorium.  For more information, click here.
Topics for this post
This is a list of keywords related to posts. The bigger the keyword, the more related posts there are. Click one to view all such posts.
All Topics