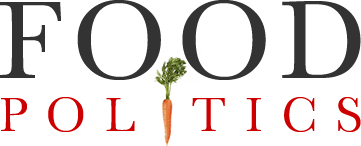 by Marion Nestle
Census Bureau releases food statistics
Thanks to the New York Times for telling us about the Census Bureau's release of the 2011 Statistical Abstract of the U.S.  This is lots of fun and the Times' account picked out a few highlights of what has changed since 2000:
The meat industry is contracting? Red meat consumption is 108.3 pounds per capita, down 5.4 pounds.
Nutritionists!  Uh oh: Vegetable consumption is 392.7 pounds per capita, down a shocking 30 pounds.
The wine industry must be happy: Wine consumption is 2.5 gallons per capita, up by half a gallon.
The establishment of organic standards in 2002 is working: Organic farmland covers 4.8 million acres, a 170% increase.
Hold your nose: Five states—Minnesota, Iowa, Nebraska, North Carolina, and South Dakota—have more pigs than people.
You can pick out your own favorite food and nutrition factoids by taking a look at the health and nutrition and the Agriculture statistical tables.  Fisheries has a section of its own.  Enjoy!