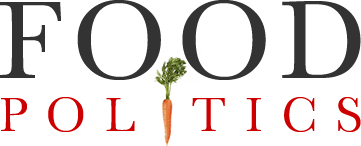 by Marion Nestle
Upcoming appearances
For appearance and lecture inquiries, please contact:
Steven Barclay Agency
12 Western Avenue
Petaluma, CA 94952
(707) 773-0654
This will be a noon Grand Rounds and an evening lecture with details to follow.
This is a lecture for the Lee Honors College's Lyceum Lecture Series on "Food for All: Sustainable Practices, Community Access, and Nutrition."  The lecture is at 6:30 p.m. followed by a reception.  Chenery Auditorium, 714 South Westnedge Ave.
This is the launch of my new book, Unsavory Truth: How Food Companies Skew the Science of What We Eat.  NYU's Fales Library, Bobst 3rd Floor (Washington Square South at La Guardia Place).  Details to come.
This is a talk and book-signing for Unsavory Truth: How the Food Industry Skews the Science of What We Eat (Basic Books, October 30).  7:00 p.m. at Politics and Prose, 5015 Connecticut Ave NW.  Information is here.
I'm speaking about conflicts of interest at the Johns Hopkins' Choose Food Symposium, November 5-8, Renaissance Harborplace Hotel.  The program is here.  Registration is here.  My talk is at 11:15.
I'm speaking about Unsavory Truth at a conference to launch the UCSF Library's new Food Documents Collection, which houses documents I used in my research, among others.  It's a morning conference, details to come.
My daughter Rebecca is Cultural Program Manager at Grace Cathedral where she manages, among other things, the Sunday morning Forum on Faith, Ethics, and Culture.  I'm doing a talk on Unsavory Truth.  Details to come.