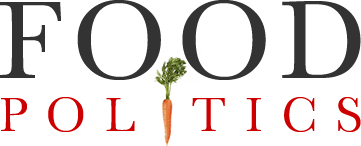 by Marion Nestle
Upcoming appearances
For appearance and lecture inquiries, please contact:
Steven Barclay Agency
12 Western Avenue
Petaluma, CA 94952
(707) 773-0654
I'm keynoting a conference to launch the UCSF Library's new Food Documents Collection, which houses documents I used in my research, among others.  It's a morning conference, 8:30-12:00, at UCSF's Laurel Heights Auditorium, 3333 California St. Suite 265.  Details about the other panelists and the conference are here.
I'm speaking about Unsavory Truth at the Sharon Heights Country Club, 2900 Sandhill Road, from 11-1.  For information and registration, click here.
From 10:30-11:15, I'm doing a conversation with Real Food Media's Anna Lappé about Unsavory Truth (and other matters) under the auspices of CUESA (Center for Urban Education about Sustainable Agriculture), in the CUESA Classroom Tent in front of the Ferry Building, followed by a book signing at Book Passage inside the Ferry Building.
My daughter Rebecca is Cultural Program Manager at Grace Cathedral where she manages, among other things, the Sunday morning Forum on Faith, Ethics, and Culture.  I'm doing a talk on Unsavory Truth at 9:30 a.m.  Details here.
This is a book talk at this College, some time in the afternoon.  Details to follow.
Another book talk, this time at the Harvard Club, 27 West 44th Street, 7:00 to 8:00 p.m., followed by book signing.
I'll be speaking about my new book, Unsavory Truth: How Food Companies Skew the Science of What We Eat.  Breakfast at 8:30, conversation with Charles Platkin from 9:00-10:15.  Hunter College Silberman Building, 2180 Third Avenue (at 119th Street), Main Auditorium (on 2nd Floor).  rsvp here
This is a conversation with Paul Greenberg on "Food Fights: Covering Disputed Science About Food and Nutrition."  It's 6:00 to 8:00 p.m., Arthur L. Carter Journalism Institute, 7th Floor Commons, 20 Cooper Square.  More information is here.  It will be live webcast online at 6:30 at journalism.nyu.edu/kc.  Greenberg's latest book is The Omega Principle.