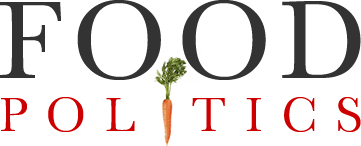 by Marion Nestle
Upcoming appearances
For appearance and lecture inquiries, please contact:
Steven Barclay Agency
12 Western Avenue
Petaluma, CA 94952
(707) 773-0654
This is the UC Berkeley School of Public Health's 75th anniversary Dean's Speaker Series, cosponsored by the Berkeley Food Institute.  It's a conversation with Alice Waters, at 5:00 p.m. in the David Brower Center, followed by a reception at 7:00.  Details here.
This is part of UC Berkeley's Edible Education series run by Alice Waters and Will Rosenzweig.  6:00 to 8:00 p.m., Anderson Auditorium, Haas School of Business.
I'm speaking at the Tinkham Veale University Center Ballroom, 11138 Bellflower Road on "Food Politics in 2018: A Humanities Perspective." The event is sponsored by the Baker-Nord Center for the Humanities as part of the Cleveland Humanities Festival.  My talk is at 4:30 p.m.
I'm part of a panel on "Vegan America: Race, Food, and Politics," at 6:00 p.m. at 20 Cooper Square, Fifth Floor.
Other panelists are David Carter (Founder, 300 Pound Vegan; Retired NFL Defensive Lineman), Syl Ko (Co-Author, APHRO-ISM: Essays on Pop Culture, Feminism, and Black Veganism from Two Sisters), and Renan Larue (Assistant Professor of French Literature, UC Santa Barbara).
I'm speaking to a class at Cornell at 11:15 a.m., 100 Savage Hall.
I'm speaking at the Boston University School of Public Health at a symposium titled "One Year Later: The Trump Administration and the Health of the Public."  The symposium is co-sponsored by BU and the Lancet Commission on Public Policy and Health in the Trump Era.    It wil be held from 9:00 am to 2:15 pm at the BU Public Health School, 72 East Concord St, Boston.  Details to follow.
I'm speaking on a panel in NYU's Fales Library at 4:00 p.m.  Details to follow.
This will be a noon Grand Rounds and an evening lecture with details to follow.