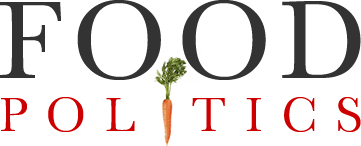 by Marion Nestle
Oxfam's new corporate accountability initiative: Behind the Brands
Oxfam America announced a new initiative this week—an accountability project it's calling Behind the Brands. 
Oxfam is an international relief and development organization.  It is concerned about what the top ten global food companies—Associated British Foods, Coca Cola, Danone, General Mills, Kellogg, Mars, Mondelez, Nestlé, Pepsico and Unilever—are doing about social and environmental policies to:
Ensure the rights of the workers and farmers who grow their ingredients

Protect women's rights

Manage land and water use

Prevent climate change

Ensure the transparency of their supply chains

Ensure the transparency of their policies and operations.
Oxfam finds the Big Ten companies to rank from so-so to poor on these measures.  The overall results? 
None of the companies are committed to women's rights throughout their supply chains.
None have adequate policies to protect local communities from land and water grabs.
All are overly secretive about their agricultural supply chains.
Few have policies in place to limit their impact on local water sources.
All have taken steps to reduce greenhouse gas emissions.
None are committed to pay a fair price to farmers (only Unilever has specific supplier guidelines).
Oxfam intends to monitor companies' responses and to adjust scores accordingly.  It will have plenty of work to do.
Does Oxfam think companies will voluntarily take actions that might reduce their bottom lines?  Will its scorecard encourage voluntary action?  I'm not optimistic.  
The first company to respond, Associated British Foods, terms Oxfam's charges "ridiculous."