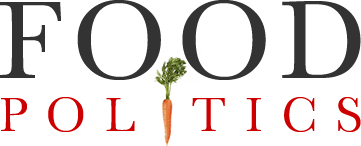 by Marion Nestle
The secret life of food stamps: good for business
The writer Krissy Clark, in a collaboration between Marketplace and SLATE, has produced a remarkable series of articles (with audio and video) on business interests in SNAP, the Supplemental Nutrition Assistance Program formerly known as food stamps.
Here are brief excerpts:
The secret life of a food stamp, April 1
At a private dinner Walmart held for market analysts last fall in Bentonville, Ark., a company vice president estimated Walmart takes in 18 percent of all food stamp spending in the U.S….Meaning, Walmart took in more than $13 billion in revenue, or about 4 percent of Walmart's total sales in the U.S.
So Walmart is likely the biggest single corporate beneficiary of SNAP, but it's not just Walmart. A growing number of stores have baked food stamp funding into their business models since the Great Recession. The tally of stores authorized to accept food stamps has more than doubled since the year 2000, from big-box stores like Target and Costco to 7-Elevens and dollar stores. It's a paradox that the more people are struggling to get by, the more valuable food stamps become for business.
Save money, live better, April 2
Although there are no federal numbers on where employed SNAP participants work, the state of Ohio…does keep a list of the top 50 companies with the most workers and their family members on food stamps. Ohio's list includes lots of fast food chains and discount and big-box stores: McDonald's, Target, Kroger supermarket, Dollar General. At the very top is Walmart, which had an average of more than 14,500 workers and family members on food stamps last year. If you take into account the average size of a family on food stamps, as many as 7,000 individual Walmart employees were on food stamps last year—nearly 15 percent of the company's workforce across Ohio.
That means the same company that brings in the most food stamp dollars in revenue—an estimated $13 billion last year—also likely has the most employees using food stamps.
 Hungry for savings, April 3  
Like many anti-hunger advocates who receive donations from corporate retailers known for low wages, Elchert is in a tricky spot when it comes to addressing the paradoxes of the food stamp economy. His group gets financial support from Walmart and other food retailers. "When we're talking a lot with corporations," he says, "it's one of those situations where, well, let's talk about this in some way where we're not offending them."
I've talked about this issue in previous posts.  Here are some additional resources on the issue: