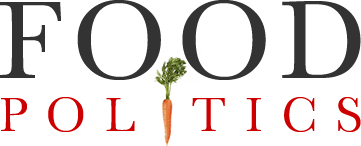 by Marion Nestle
New report on GMOs: safe but "more research needed" (sigh)
The National Academies of Science has just released its long-awaited report "Genetically Engineered Crops: Experiences and Prospects."
I was a reviewer on this report months ago and as far as I can tell it hasn't changed much from when I sent in my comments.  Here's what I said:
In light of public polarization of opinion of GE foods, this report tries to do something quite difficult—to come to evidence-based opinions about the risks and benefits of these foods now and in the future.  The report makes it clear that the committee listened carefully to a wide variety of opinions about risks and benefits and tried to make sense of the varying viewpoints based on available evidence.  This was not easy, given the inadequacy of much of the evidence.

I give the report high marks for its neutral tone and cautious interpretations.  The report clearly reveals how little is known about the effects of GE foods, how much GE is about crops fed to animals and how little is about food for people (except indirectly), and how minimally the promises of food biotechnology have been realized, except as they benefit large agricultural producers.

In trying to be fair, the committee will please nobody.  Proponents will be distressed that the benefits are not more strongly celebrated.  Critics will be upset that the report treats many of their concerns pejoratively ("activism").  Both sides will find plenty in the report to buttress their views.  The overall conclusion, "more research needed," makes sense but is not helpful in bringing the two sides together.
Some examples:
The Environmental Working Group, for example, likes:
The implied call for mandatory GMO labeling: "Mandatory labeling provides the opportunity for consumers to make their own personal risk-benefit decisions."
The recommendations to fix the GMO regulatory system, including putting in some limits on "GMO crops and the chemicals used with them."
The confirmation that "GMO crops have not, to date, increased actual yields and should not be exclusively relied upon to meet long-term food security needs."
But Food & Water Watch issued a statement and a position paper claiming that the Academies and committee members have ties to the biotechnology industry and agricultural corporations.  The group says that Monsanto, DuPont and Dow Chemical Company each donated between $1 million and $5 million to the Academies in 2014, citing a treasurer's report, and that the report is conflicted from the get go.
Today's New York Times has a good summary of diverse reactions to the report, and points out:
Perhaps because of the sensitivity and complexity of the issue, many of the document's conclusions are hedged by caveats.

"We received impassioned requests to give the public a simple, general, authoritative answer about G.E. crops," Fred Gould, a professor of entomology at North Carolina State University and chairman of the committee that compiled the report, wrote in the preface. "Given the complexity of G.E. issues, we did not see that as appropriate."