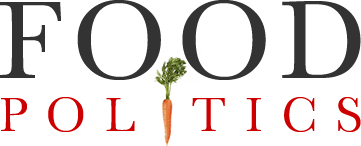 by Marion Nestle
Sweet post-election thought: how much peanut butter (Nutella, really) is a serving?
I am just getting around to the burning question of how much peanut butter constitutes a serving size.
Earlier this month, the FDA put out a call for comments on this question.  In FDA-speak: "the Appropriate Product Category and Reference Amount Customarily Consumed for Flavored Nut Butter Spreads and Products that Can Be Used to Fill Cupcakes and Other Desserts."
The FDA is inviting comments (note that a RACC is "Reference Amount Customarily Consumed")
in part because it recently issued a final rule updating certain RACCs, and the agency has also received a citizen petition asking that it either (1) issue guidance recognizing that "nut cocoa-based spreads" fall within the "Honey, jams, jellies, fruit butter, molasses" category for the purposes of RACC determination, or (2) amend the current regulation relating to RACCs to establish a new RACC category for "nut cocoa-based spreads" with a RACC of 1 tablespoon.
What on earth is this about?  Ask: Who could possibly care?  The answer: Nutella.
As CNN explains, the "citizen petition" comes from Ferrero, the maker of Nutella, which has been trying for two years to get the FDA to reduce the serving size.
Why?  Because the current serving size is two tablespoons—200 calories.
Nutella thinks you might buy more if the serving size were one tablespoon and only 100 calories.
CNN quotes Nutella's latest petition:
Ferrero's most recent advertising and promotion has advocated the consumption of a balanced breakfast with the inclusion of Nutella as a tasty, complementary spread to add on to nutrient-rich whole grain breads, fruits, and dairy products.
CNN also notes that
In 2012, Ferrero settled a class-action lawsuit for $3 million after a 4-year-old's mother claimed she was shocked to discover that the hazelnut-chocolate spread — whose first two ingredients are sugar and palm oil — was nutritionally similar to a candy bar despite being advertised as a healthy breakfast option.
I swear I am not making this up.
If you care to comment, go to http://www.regulations.gov and type FDA-2016-N-2938 in the search box.
The relevant documents: