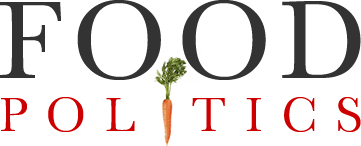 by Marion Nestle
Two U.N. Rapporteurs take on pesticides
The Special Rapporteur on the right to food, Hilal Elver, and the Special Rapporteur on Toxics, Baskut Tuncak, have issued a report on pesticides as a human rights issue.
They
Told the Human Rights Council in Geneva that widely divergent standards of production, use and protection from hazardous pesticides in different countries are creating double standards, which are having a serious impact on human rights…The Special Rapporteurs pointed to research showing that pesticides were responsible for an estimated 200,000 acute poisoning deaths each year. The overwhelming number of fatalities, some 99%, occurred in developing countries where health, safety and environmental regulations were weaker.
The site says the full report is available here, but I could not access it from that site and requested it.  It is here).
In the meantime, The Lancet has an editorial about it: "Phasing out harmful use of pesticides."
The UN rapporteurs are damning about the "aggressive, unethical marketing tactics" of the pesticides industry and the money spent on influencing policy makers and disputing scientific evidence. They call for a new global treaty to regulate and phase out the use of hazardous pesticides in farming. Such an international pact would be a welcome addition to efforts towards a more sustainable future but it will take time to form, especially considering the likelihood of industry opposition to it. More immediately, much more can be done nationally to strengthen existing weak regulations on the use and safety of these chemicals to protect the health of populations and the environments that they depend on.
Let's hope these statements bring this issue to public attention—again.  We need another Rachel Carson!