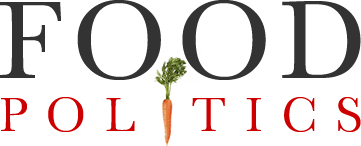 by Marion Nestle
Water: With added hydrogen, oxygen, or adjusted acidity
I received this inquiry from a reporter wanting a comment:
Hi, Marion, I'm doing a story about the trend of waters that claim to have extra health benefits because of their added "molecular oxygen" or "molecular hydrogen."
Another reporter asked
I'm looking for comment on whether regularly drinking bottled water with a pH as low as 4 could stress the system, etc….the story I'm writing goes into more detail on the how and why of low-pH waters and how they may or may not affect health.
My first reaction: you have to be kidding.
I think these waters are hilarious—products of brilliant marketing.
The basic facts:
Water is two atoms of hydrogen and one of oxygen, neutral in acidity.  The body has a terrific buffering system to keep the blood at exactly the right level of neutrality (pH 7.35-7.45).
Stomach contents are extremely acid: pH 1.5-3.5.
Gases in water quickly equilibrate with air.
At the Fancy Food Show, I picked up a plastic pouch of hydrogen-infused water
clinically proven [no references or data given] to help reduce inflammation and is a powerful source of antioxidants.  It's perfect for your workout, beauty, and overall daily routine."
This product also claims to provide anti-inflammatory benefits, relieve fatigue and jet lag, improve fitness performance, boost energy, and enhance circulation and cell function.
I asked what it tasted like.  Water, they said.
It did.
The upside: harmless.
The downside: silly.
Caveat emptor.