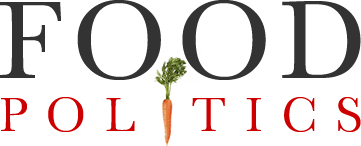 by Marion Nestle
How did glyphosate get into Cheerios?
The Environmental Working Group recently released a report on the amounts of glyphosate (Roundup) in children's breakfast cereals, particularly those made with oats and wheat.
Roundup, you may recall, has been judged a probable carcinogen by the International Agency on Research on Cancer (IARC) and California courts.  It is used to kill weeds in fields growing crops genetically modified to resist Roundup.
But oats and wheat grown in the U.S. are not genetically modified.  The FDA's list of genetically modified foods says nothing about oats and wheat, and the agency does not permit GMO versions to be marketed.
How could Cheerios and Quaker Oats be contaminated with glyphosate at amounts that exceed standards?
The explanation:
Increasingly, glyphosate is also sprayed just before harvest on wheat, barley, oats and beans that are not genetically engineered. Glyphosate kills the crop, drying it out so that it can be harvested sooner than if the plant were allowed to die naturally.
Really?  They spray glyphosate on oats just before harvest?  Yes, they do.
What this means is that more glyphosate gets into your food from the non-GMO wheat and oats sprayed just before harvest, then from GMO corn and soybeans sprayed earlier in their growth.
Whether eating glyphosate is bad for you or your kids is a matter of fierce debate.  As the New York Times explains, the safety of glyphosate is very much at issue:
In fact, it is central to a raging international debate about the chemical that has spawned thousands of lawsuits, allegations of faulty research supporting and opposing the chemical and a vigorous defense of the herbicide from Monsanto, the company that helped develop it 40 years ago and helped turn it into the most popular weedkiller in the world.

Scott Partridge, a vice president at Monsanto, said in an interview on Wednesday that hundreds of studies had validated the safety of glyphosate and that it doesn't cause cancer. He called the Environmental Working Group an activist group.

"They have an agenda," he said. "They are fear mongering. They distort science."
The EWG states its advocacy position on its website:
The Environmental Working Group's mission is to empower people to live healthier lives in a healthier environment. With breakthrough research and education, we drive consumer choice and civic action. We are a non-profit, non-partisan organization dedicated to protecting human health and the environment.
I do not view this report as distorting science.  If anything, it provides data that the industry is not collecting or does not want released.  This information is useful for making decisions about what to eat.
You don't want your kids eating glyphosate while scientists are still in disagreement about the extent of its harm to human health?
Vote with your fork: Buy organic cereals; they have far less or no detectable glyphosate.
Vote with your vote: Call for policies to get these practices stopped.
Or you can consider a third option now in play: file a lawsuit.