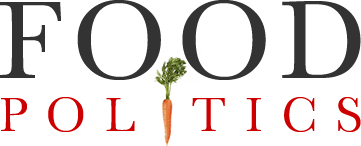 by Marion Nestle
One more time: Is it safe to eat fresh foods from supermarkets and what to do about the packages
I know I've talked about what foods are safe to eat earlier (see previous post), but from the number of queries I'm getting it's clear that this matter needs further discussion.
I can understand why this is so confusing.  Nobody gives a straight answer.
Let me start with the CDC's advice:
How's that for reassuring?
Consumer Reports: Answers to Common Questions About Coronavirus and the Food You Eat
The CDC, the Food and Drug Administration, the Department of Agriculture, and the World Health Organization say that food is not known to be a route of transmission of the virus. And the information available from outbreaks of SARS and MERS, caused by coronaviruses similar to the one that causes COVID-19, is reassuring. According to the WHO, the evidence showed that those illnesses were not transmitted by food.
Seattle Times: Debunking 10 myths about the Coronavirus
MYTH: The coronavirus can't survive airborne or on surfaces.

FACT: Researchers have found that droplets carrying the virus can travel through the air and stay suspended for about half an hour. They can also settle on surfaces, where the virus can last longer — up to 24 hours on cardboard and up to 72 hours on plastic and steel. The risk of getting infected from touching these materials, however, remains low because the virus' ability to infect decreases rapidly over time.  Source: The New York Times
Washington Post: Why health experts aren't warning about coronavirus in food
The CDC and other experts note that the virus is new and still being studied. But they say there's no evidence yet that COVID-19 sickens people through their digestive systems, though the virus has been detected in the feces of infected people.
Washington Post:  Grocery shopping during the coronavirus: Wash your hands, keep your distance and limit trips
In my paraphrasing:
D

on't go to the grocery store unless you have to
Wear a face mask
JAMA's Patient Page on food safety and the virus
My bottom line on how to interpret all this
Maybe this virus has not been shown to be transmitted through food—yet—but why be the first case.  While waiting for the research—and let's hope it comes soon—following the Washington Post's and JAMA's advice makes sense.
It's also always a good idea to follow basic food safety principles for raw foods: clean, cook, separate, chill.
Cooking kills the virus.  Enjoy!
Have a happy, well fed, and safe weekend.
Resources