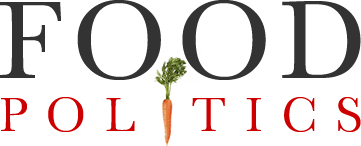 by Marion Nestle
Percy Schmeiser settles suit with Monsanto!
Why Monsanto chose to go after Percy Schmeiser is beyond me. You might remember the case: Monsanto sued this Canadian canola farmer for growing the company's genetically modified (GM) seeds without paying for them. But Mr. Schmeiser claimed that GM canola pollen blew over and contaminated his fields.
In 2002, Canadian courts said it didn't matter how Monsanto's GM plants got onto his fields; Schmeiser had to pay for them. So Monsanto won the case but looked like a big bad bully.  Now Monsanto has agreed to an out-of-court settlement, surely something it should have done a long time ago.
This case reminds me of the infamous "McLibel" trial of the late 1990's when McDonald's sued a couple of young activists in London for saying rude things about the company. You would think the threat of a public relations nightmare would encourage companies to back off in such David-and-Goliath situations, but no such luck. I'm glad this one is over. Next?