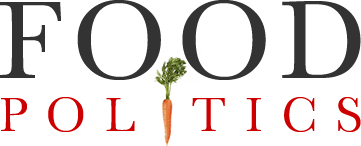 by Marion Nestle
More veggies for kids and communities
For kids:
The Institute of Medicine has a new report out on setting standards for school meals.  As easily seen in the report summary, the committee offered three main recommendations:
* Increasing the amount and variety of fruits, vegetables, and whole grains

* Setting a minimum and maximum level of calories

* Focusing more on reducing saturated fat and sodium
Its report comes with a handy table summarizing the differences between current breakfast standards and those recommended by the IOM committee.  These are refreshingly food-based and follow the three main principles noted above.
For communities:
New York City's ever active health department did a study on the availability of fruits and vegetables in low-income areas and found just what you might expect – few, if any, supermarkets carrying fresh produce.  To address the gap, the city has instituted the FRESH program, "Food Retail Expansion to Support Health," to get healthier foods into the inner city.
So much is going on these days that it is hard to keep up with it.  Enjoy!