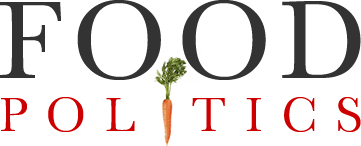 by Marion Nestle
Europe rejects droves of health claims
In what the functional food industry refers to as a "bad day at the office," the European Food Standards Agency (EFSA) rejected hundreds of health claims, particularly those for probiotics.  More recently, it rejected a claim that glucosamine prevents cartilege degeneration.  Hard as it may be for the food and supplement industries to believe, EFSA just can't find scientific evidence to support those claims.
A representative of the company that applied for the glucosamine claims says his company now anticipates a loss in product sales, and complains that it had "invested quite heavily in this submission, in terms of effort and financial outlay."
Too bad.
Why can't they come up with the science to support those claims? For one thing, who would want to do the research?  Danone and Yakult have just announced two $50,000 grants to study probiotics.  This won't go far and the sponsorship is an almost certain guarantee that the results will be just what the companies paid for.
Independent research is much more complicated.  Consider folic acid, for example.  The latest clinical trial of folic acid and colon cancer went to a lot of trouble to prove that folic acid supplements are harmless.  In most people, they have no effect on colon cancer, neither benefit nor risk.  Among the few people who had unusually low levels of the vitamin in their blood, the supplements appeared to have some protective effect.  You can interpret results like this either as evidence for no benefit or as evidence that folic acid supplements might benefit some people under some circumstances.
And that brings us to supplements again.  A trade association for supplement manufacturers says:
While it cannot be denied the food and supplement industry has entertained its fair share of cowboys, our concern is that the [EFSA] regulation goes so far as to throw the baby out with the bathwater. At the very point in time when consumers need most information to help them make the right food and supplement choices to help them offset largely preventable chronic diseases, we see the industry being gagged.
"Cowboys" are indeed a problem, and one well known to the American supplement industry. Says the head of the Council for Responsible Nutrition, the euphemistically named supplement trade association:
Fifteen years ago, our biggest threat was an over-reaching FDA….More recently, the problem has been an FDA that's under funded and lacks the political will to do what it needs to do. And as a result today, many of the problems that burden the dietary supplement industry are ones that come from within the industry itself from that lack of oversight….Companies… intentionally – or inadvertently – put prescription drugs or anabolic steroids into their products and call them dietary supplements; products that just don't do what they claim.  Also some companies practice economically motivated adulteration, passing off shoddy products as something more than they are … and ignore the new GMP requirements in hopes that they will fall under the radar screen.
Perhaps in response, the Boston Globe says we should repeal the 1994 law that deregulated dietary supplements and give the FDA some regulatory teeth.  Good idea.
Please forgive my endless repetition of this mantra: health claims are about marketing, not health.