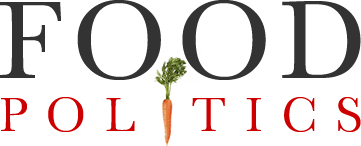 by Marion Nestle
Melamine in Chinese milk – again!
I thought we were finished with melamine by now, but no such luck.   Recall that we first encountered Chinese melamine (ordinarily a benign component of plastic dinnerware and countertops) as a toxic adulterant of pet food in 2007.  Melamine, it turned out, had been used for decades to boost the apparent – not actual – protein content of foods and ingredients.  It is high in nitrogen and the test for protein in foods measures nitrogen, not protein itself.
In the wake of the pet food scandal, China cracked down on food safety violations.  That did not stop use of melamine and within just a few months, it turned up in infant formula and caused a reported 300,000 Chinese babies to develop kidney problems.  Chinese authorities again dealt harshly with perpetrators, executing some and giving others long prison sentences (to catch up with this story, see previous posts).
And now here we go again, and with one of the same companies implicated in the 2008 infant formula problem – Shanghai Panda Dairy Company.  Chinese authorities are again cracking down but, as the New York Times reports, the problem seems intractable.
Why?  Maybe Chinese adulterators are getting a double message.  Here are a couple of items I picked up off Chinese news sources on the Internet (Google the names to find the sites):
Li Changjiang, the director of the inspection agency that failed to deal with the melamine problem, was forced to resign from the agency. He has overcome his disgrace, more or less.  He was just appointed deputy head of a major anti-pornography group.
Zhao Lianhai organized the parents of victims of the infant formula adulteration to try to get compensation.  He was put under house arrest in November and formally arrested in December.
Melamine is an enormous embarrassment to the Chinese and they will get a grip on it eventually, but let's hope sooner rather than later.  In the meantime, best to avoid food products made in China that are supposed to contain protein from milk or soybeans.
Update January 6: today's Wall Street Journal reports that Chinese authorities have known about the melamine in milk:
Tuesday, the newspaper 21st Century Business Herald reported industry participants were aware of melamine use by Shanghai Panda as early as April 2009. The paper, which didn't identify its sources, said that in November China's minister of health, Chen Zhu, referred to melamine tainting by the company during an internal meeting of Communist Party officials. Those comments, the newspaper reported, prompted Wenzhou-based Zhejiang Panda Dairy Products Co. in early December to announce on its Web site that, while its name was similar to Shagnhai Panda, the two companies aren't related.