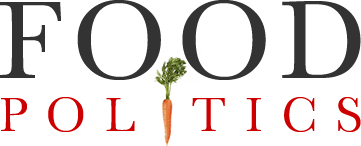 by Marion Nestle
The new KFC Double Down: not an April fool joke?
Several informants – and students in my NYU Food Ethics class – told me about KFC's latest sandwich or sent me to stories about it: two slabs of breaded chicken, two slices of bacon, two melted slices of cheese, and sauce.  I checked the KFC website.  Apparently, it's for real.  There is even a TV Commercial.
And here's the nutrition information.  Practically a diet product (except for the sodium).  You can't make up stuff like this.
| Sandwich | Calories | Fat (g) | Sodium (mg) |
| --- | --- | --- | --- |
| KFC Original Recipe® Double Down | 540 | 32 | 1380 |
| KFC Grilled Double Down | 460 | 23 | 1430 |