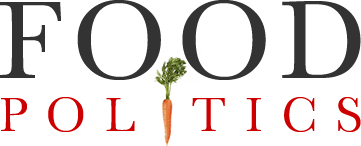 by Marion Nestle
Supreme Court greenlights Monsanto's GM Alfalfa
Several readers have asked me to comment on the recent Supreme Court ruling overturning a previous ban on growing Monsanto's genetically modified (GM) alfalfa.
What happened with this case is so complicated that Food Chemical News (June 28 2010) produced a timeline to help track the events.
In summary:
The Supreme Court's decision overturned lower court bans on growing Monsanto's "Roundup Ready" (herbicide-resistant) alfalfa.
The lower courts imposed the ban because the USDA had failed to prepare the required Environmental Impact Statement (EIS) evaluating the consequences of planting GM alfalfa.
USDA did not prepare a full EIS because its preliminary investigations showed that planting GM alfalfa had "no significant impact."
As explained by FoodSafetyNews.com,  environmental groups argued that the USDA is required by law to prepare a full EIS and sued to ban GM alfalfa. The court agreed and said GM alfalfa could not be planted until USDA prepared an EIS. An appeals court upheld this decision. The Supreme Court now says that decision was too drastic, in effect permitting USDA to decide whether to allow GM alfalfa to be planted pending completion of the EIS.
In response to this situation, the USDA says it will (1) thoroughly review the Supreme Court's decision before deciding what to do about GM alfalfa, and (2) complete the EIS in time for next spring's planting.
For environmental and business groups, two issues are at stake:
Organics

: As FoodNavigator.com explains, if GM alfalfa is planted, it will contaminate conventional alfalfa, the main forage crop for organic dairy cattle. Organic dairy producers will not be able to sell milk as Certified Organic.

International trade

: If conventional alfalfa is contaminated by GM alfalfa, growers of conventional alfalfa will not be able to sell their crops to countries that forbid import of GM crops.
On these grounds, fifty-six members of Congress signed a letter to the USDA Secretary asking him not to deregulate GM alfalfa.
My comment: Until USDA decides what to do, the game is not over. Now is the time to let USDA know whether you think GM alfalfa should be deregulated. And while you are at it, why not toss in an opinion about whether you think GM foods should be labeled as such.