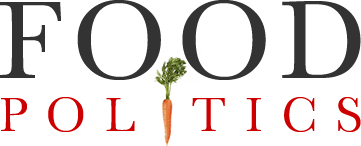 by Marion Nestle
Michael Taylor tells food industry: FDA intends to enforce new food safety mandate
Michael Taylor, deputy commissioner for food at FDA and long a proponent of food safey, gave a speech on January 27 outlining the FDA's plans for implementing the new food safety law.
He pointed out that the new law says:
Food producers and processors must institute preventive controls.
FDA has new legal powers to ensure that they do.
FDA can focus efforts on riskiest foods.
Food importers must meet accountability requirements.
Taylor got right to the point:
So, let me give you a sense of what you can expect from FDA.

First, we'll hit the ground running…So we embark on implementation with considerable momentum.  

Second, the vast workload that comes with the new law – over 50 new regulations, guidances, programs and reports to Congress – means we have to set priorities for our work…you can expect timely completion of the rulemakings required to set standards for produce safety, preventive controls, and intentional adulteration…And you can count on us giving high priority to building the new import oversight system.

Third, we are absolutely committed to full, transparent engagement with all stakeholders – industry, consumers, public health experts, and other government colleagues – to take advantage of their expertise and diverse perspectives.   

Finally, you can count on FDA to maintain its strong commitment to public health and to achieving the new law's public health goal in a manner that is in keeping with the consensus that gave rise to the legislation. 
As for the vexing question of how the beleaguered FDA is going to be able to pay for all this?
And, in a world of finite resources, we'll change how we work to make the best use of every resource we have…Make no mistake, resources will be a continuing issue as we work to build the new food safety system. 

As I hope I've made clear there is a lot FDA can and will do to put the new law into action and build the foundation for a new system, but completing the system – fulfilling the Congressional vision embedded in the new law – will require new resources and investment.  

We look forward to working on this issue with our colleagues in industry and the consumer community, and with leaders in Congress. 
Well, good luck with that last one. Members of agricultural appropriations committees have already threatened no new resources for FDA.
Recall: FDA, an agency of the public health service (like NIH or CDC), gets its funding from agricultural appropriations committees—not health committees.  Nobody talks about this bizarre historical anomaly very much but I see it as a huge problem for FDA and one that badly needs fixing.
The fix isn't likely to happen in this administration but without adequate resources, FDA is severely constrained in what it can do.  Taylor is telling the industry that FDA is not going to wait for resources to get started on its new legal authority to protect public health. 
Let's hope this works.