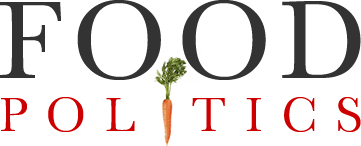 by Marion Nestle
McDonald's Happy Meals healthier?
 My monthly (first Sunday) Food Matters column is in answer to a question about the deeper meaning of the fuss over McDonald's "healthier" Happy Meals.
Q: Wouldn't it be the best form of activism to encourage people to buy McDonald's slightly-less-bad-for-you Happy Meals? If the new formulation flops, do you really think McDonald's will take more baby steps in the same direction? Aren't you letting perfect be the enemy of the good?
A: The question, for those of you ignoring national media, refers to McDonald's announcement that it plans to restructure its Happy Meals for kids by adding fruit, downsizing the fries and reducing calories by 20 percent and sodium by 15 percent.
Skeptic that I am, I took a look at McDonald's lengthy press release. The company does not claim to be making healthier changes. It says it is offering customers improved nutrition choices. This is something quite different.
At issue is the default meal – the one that gets handed to you without your having to ask for anything. Plenty of research shows that although customers can request other options, most take the default. So the default is what counts.
McDonald's says its new default will include a quarter cup of apple slices (how many slices can that be?), less sodium and 1 ounce less of french fries (thereby reducing calories and fat). These are steps in the right direction, but tiny baby steps.
The rest is up to you: hamburger, cheeseburger or McNuggets.
As for beverage, the press release says, "McDonald's will automatically include produce or a low-fat dairy option in every Happy Meal."
This sounds great. "Automatically" makes me think the default Happy Meal will come with low-fat milk. No such luck. It's up to you to choose from soda or low-fat chocolate or plain milk.
Want something healthy? You have to ask for it. And the meal still comes with a toy, although the meal isn't healthy enough to qualify for a toy under the San Francisco's nutrition standards, which are scheduled to go into effect in December.
The McNuggets meal meets the San Francisco standard for sodium, overall calories and for saturated fat – if you choose low-fat white milk. It fails the other criteria. Fat provides about 40 percent of the calories (the standard is 35 percent), and fruit misses the mark by 50 percent. The hamburger and cheeseburger meals fare worse. And even if french fries count as a vegetable, they don't reach the three-quarter-cup standard. Sodas, of course, have too much sugar.
No toy for you, San Francisco kids.
So let's get back to the underlying question: Isn't perfect the enemy of the good? Aren't baby steps like these in the right direction and, therefore, deserving of support?
I don't think so. McDonald's proposed changes are a reason to ask a different question: Is a better-for-you Happy Meal a good choice? Wouldn't your child be better off eating something healthy, not just slightly healthier?
Couldn't McDonald's, the largest fast-food maker in the world, come up with something genuinely healthy that also tastes good?
"Better for you" is a marketing ploy, and McDonald's must need help. Although its annual sales are $24 billion from its 14,000 outlets in the United States, Happy Meals have not been doing well.
Business analysts attribute declining sales since 2003 to the unsophisticated toys. Toys are the only reason kids want Happy Meals, but more parents are ordering adult meals and splitting them with the kids. But what if Happy Meals appear healthier?
Let's be clear: McDonald's is not a social service agency. It is a business. Its business interests come first. This means selling more food to more people more often, viewing food choice exclusively as a matter of personal responsibility and pretending that the company's $1.3 billion annual marketing expenditure has no effect on consumer choice.
I suspect McDonald's actions are attempts to appease Michelle Obama's healthy eating campaign and perhaps to attract health-minded families to its outlets.
But surely the changes are also part of a calculated public relations effort to discourage other communities from enacting nutrition standards like those in San Francisco.
What McDonald's actions make clear is the need for federal action to make it easier for people to make healthier choices for their kids. This means putting some curbs on marketing below-standard foods to kids and insisting that default kids menus be healthy.
If McDonald's were serious about promoting kids' health, it would offer default Happy Meals that meet San Francisco's nutrition standards and advertise them to the hilt. Until the company does that, I'm reserving applause.
Marion Nestle is the author of "Food Politics," among other books, and is a professor in the nutrition, food studies and public health department at New York University. E-mail her at food@sfchronicle.com.
This article appeared on page G – 4 of the San Francisco Chronicle