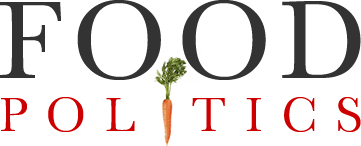 by Marion Nestle
Good news! Childhood obesity rates declining in NYC
Just in time for the holidays, we get some good news.   The New York City Health Department reports that rates of childhood obesity are falling.
If the rates were staying constant, I'd consider it a step forward.  But these results show rates going down, even if only by a few percentagel points.
The Bloomberg administration says the numbers are a result of its anti-obesity initiatives, some focused especially on children.  Health Commissioner Dr. Tom Farley told the New York Times that he attributes
the progress partly to the city's aggressive advertising campaign against sugary sodas, which he said may have altered what parents were providing to their children. The city has also tried to add healthier options to school lunch menus, enacted strict rules on the calorie and sugar content of snacks and drinks in school vending machines, and even put limits on bake sales, a move that caused some grumbling.
As I explained to Bloomberg News,  if this trend continues, it will represent the first truly positive development in years.
It also suggests that the health department's unusually aggressive efforts to address obesity may be paying off.  If so, they should inspire other communities to do the same kinds of things.  If nothing else, they raise awareness of the problem and help create an environment more conducive to healthy eating.
On the national level, Michelle Obama's Let's Move campaign also has raised awareness.  Could it be that we are getting to a tipping point?
It's pretty clear by now what works.  A Cochane meta-analysis of 55 studies finds strong evidence to support beneficial effects of child obesity prevention programs on BMI, particularly for kids age 6 to 12.
The interventions showing the most promise are just like those in New York City:
School curriculum that includes healthy eating, physical activity and body image
School sessions for physical activity throughout the school week
Improvements in nutritional quality of the food supply in schools
Environments and cultural practices that support children eating healthier foods and being active throughout each day (see yesterday's post)
Support for teachers and other staff to implement health promotion strategies and activities (e.g. professional development, capacity building activities)
Parent support and home activities that encourage children to be more active, eat more nutritious foods and spend less time in screen based activities
These are showing measurable benefits.  Shouldn't every city start doing them?