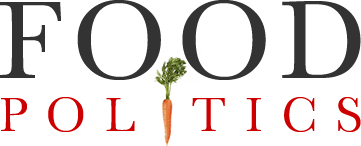 by Marion Nestle
Peevish about "protein"
Reading the New York Times dining section this morning kicked up my annoyance at use of the term "protein" to refer to meat.  A story about what to do with holiday leftovers says "…repurposing top-quality proteins into dinner is easier than it seems."
Another on Simon Doonan's new book, Gay Men Don't Get Fat, quotes him as pointing out that "straight food…tends to be leaden, full of protein, thick with fat." Now you know.
But protein is a nutrient.  Foods are sources of nutrients.
Nutritionists like me consider protein a "macronutrient," meaning that foods contain many grams of protein and also that protein is a source of calories (4 per gram as opposed to 9 for fat and 4 or so for carbohydrate).
Diets contain about 15% of calories from protein on average, an amount much greater than most people need—about twice the minimum required for maintenance and growth.
"Protein" is most definitely not a synonym for meat or even tofu (see table).  I've listed the plant sources of protein in Italics.
FOOD SOURCES OF PROTEIN IN U.S. DIETS
| | |
| --- | --- |
| PROTEIN SOURCE | % TOTAL PROTEIN |
| | |
| Poultry | 17 |
| Dairy | 16 |
| Refined grains | 15 |
| Beef | 11 |
| Seafood |  7 |
| Pork |  6 |
| Vegetables |  6 |
| Whole grains |  4 |
| Eggs |  4 |
| Fruit |  2 |
| Nuts and seeds |  2 |
| Sweets |  2 |
| Legumes (beans, peas) |  1 |
Source: J Am Diet Assoc. 2010 February ; 110(2): 291–295.
Grains, vegetables, and fruits are not the biggest sources, but they are important contributors.  Vegans, who consume no animal products at all, do not lack for protein.
And while proteins from meat resemble our own proteins more than do proteins from vegetables, their constituent amino acids are the same in all foods.  Varying food intake and eating enough food takes care of amino acid balance.
Hence, my peevishness at the use of "Protein" as a separate category in USDA's MyPlate (see previous post).
Grains and dairy, each with its own sector, are important sources of protein in American diets.

Why protein?  USDA used to call the group "meat" even though it contained beans, poultry, and fish.  The meat industry ought to be happy about "protein."  Meat producers have spent years trying to convince Americans to equate meat with protein.
A plea: let's keep terms clear and talk about nutrients when we mean nutrients and foods when we mean foods.  Protein is not food.
NOTE: More about protein tomorrow when I discuss the new JAMA study on whether high-protein diets help you lose weight (spoiler alert: they don't).