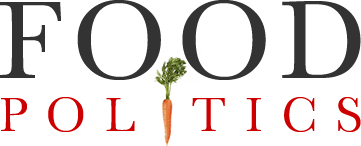 by Marion Nestle
Never mind food: let's Aginvest!
As a keen observer of the Occupy Big Food movement (sign up for social media day of action February 27), I hardly know what to make of an invitation I received yesterday to an upcoming conference  on "aginvestment."
Aginvestment?  This is a new word in my vocabulary but I guess it means forget food: agriculture is the hot new investment opportunity.
I've edited out the details, but here's the invitation, just as sent:
As you are aware, the trend of investing in agriculture has already started. I can foresee that more and more farmers will become rich and agricultural commodity prices will continue to rise in the long-term. I think ag will be a great place for the next 10-20 years.

I invite you to join me this year…where I will present my views on ag investing and be on-hand throughout the day to answer attendee questions. This conference is a reflection of the real money at work in the space, as well as the increased interest from new allocators.

With investments in agriculture expected to increase up to 5% in institutional portfolios in the next five years, the trailblazing investment experts at this conference will help define the future and how to capitalize on that growth. I have said it before that the power is shifting from the financial centers to the producers of real goods. The place to be is in commodities, raw materials, natural resources, and the place to learn about it is here …
And you thought farming was about growing food?
Follow-up February 24: I received a message apologizing for the previous message.
On February 22, you may have received an email…the marketing and promotional information expressed in that message were issued without [the writer's] full consent or knowledge.
Oh dear.