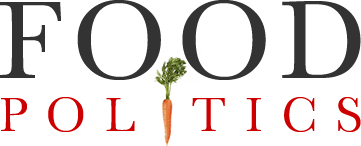 by Marion Nestle
Nutritionist's Notebook: Importance of fiber
This semester I answer students questions about nutrition on Tuesdays in the student-run Washington Square News.  Today's is about fiber.
Question: We tweeted and linked to the article you were cited in The New York Times on Tuesday, and you mentioned the importance of fiber in a diet. How much fiber is good to have in a daily diet, and what does it do for our bodies? What are good sources of fiber — cereal bars, granola bars? How much is too much fiber?
Answer: You, like most Americans, probably get less than half the fiber you need. You can fix that by eating more vegetables, fruits, nuts, beans, peas and whole grain breads and cereals. Fiber occurs only in plants.
Eating these foods at every meal will do wonders for your digestive system. They help protect you against obesity, heart disease, Type 2 diabetes and even some cancers.
Fiber refers to a bunch of plant carbohydrates that human enzymes cannot digest easily. These come in two types: insoluble and soluble. Insoluble fiber, the kind found in grains, almost completely resists digestion. It has no calories.
But soluble fiber from beans and other vegetables can be digested to some extent by bacteria in your colon. They produce a little energy you can use.
Research shows that people who eat plenty of vegetables, fruits and whole grains with both kinds of fiber develop less chronic disease. But these benefits do not show up in studies using fiber supplements.
This means you are better off eating vegetables than power bars. If you must eat those bars, choose the ones with fruits, nuts and whole grain — real foods — high up on the ingredient list. Watch out for misleading claims about "good source of fiber."  Check the Nutrition Facts panels — 3 grams is minimal, 5 is better.
If you are not used to eating fruits, vegetable and grains, eating more of them may make you feel gassy. Gradually include more. Your digestive system will be happier, and you will be healthier.