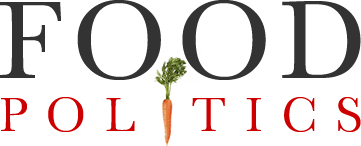 by Marion Nestle
The arguments about sodium go on and on
Dietary sodium continues to generate much talk but little action.
The CDC issued a recent Vital Signs report on dietary sodium with this graphic:
In translation from the data tables:
90% of Americans consume too much salt.
44% of salt comes from 10 foods: breads and rolls, cold cuts and cured meats, pizza, poultry, soups, sandwiches, cheese, pasta dishes, meat dishes, and snacks.
65% of salt comes from retail processed foods.
25% comes from food served at restaurants.
10% comes from salt added at the table.
10% occurs naturally in foods.
$20 billion a year is the cost of salt-related chronic disease.
The bottom line?  Americans would be better off eating less salt.
But from the standpoint of the food industry, reducing dietary sodium is a big problem.  See, for example,  FoodNavigator-USA.com's recent articles about sodium in foods and health:
Sodium reduction: The science, the technology… and the business case It's expensive, risky, and difficult, but manufacturers have made huge progress on sodium reduction in recent years. But how much further can they go, and where is the ROI if consumers are at best indifferent to their efforts, or at worst downright suspicious?.. Read

Bakers on sodium reduction: We can't afford to make products consumers won't buy Reducing sodium is expensive and difficult, and many bakers are beginning to wonder whether it is worth investing millions into reformulating products that consumers do not want to buy, according to the Association of Bakers (ABA)… Read

Risks of slashing sodium levels in cheese could outweigh benefits, US researcher A prominent US researcher says that government pressure to cut sodium in cheese could have serious food safety, taste and labeling consequences, and questions the necessity of such a move given minimal evidence of positive health effects and muted consumer demand… Read

Sodium reduction: To boldly go… lower and lower Food manufacturers are under increasing pressure to reduce sodium, but surveys suggest many shoppers are, well, not that bothered. So where does this leave firms plugging sodium reduction solutions? Elaine Watson asks Mariano Gascon, R&D chief at seasonings, flavors and spice specialist Wixon for his take on it… Read

Law professor: Sodium reduction only works if there is a level playing field If consumers are not demanding lower-sodium products, and the government does not mandate reductions, the food industry has "no incentive to be at the forefront of change", according to one legal expert… Read

National Dairy Council: Low sodium cheese is not taking the market by storm While cheese makers remain committed to salt reduction, demand for low-sodium cheese remains pretty lackluster, according to the National Dairy Council (NDC)… Read

Academic: Government sodium targets are incompatible with rest of dietary guidelines Further evidence that government healthy eating guidelines are more 'aspirational' than achievable has been uncovered by researchers testing how easy it is to meet low sodium targets and get the rest of the nutrients we need… Read

IFT urges government to take a cautious approach to sodium reduction The Institute of Food Technologists (IFT) has submitted comments to government agencies suggesting that actions to reduce sodium should not go "too far, too fast", and has raised concerns about consumer acceptance and the safety of reduced sodium foods… Read

American Heart Association blasts industry sodium reduction skeptics Suggestions by the Salt Association and other industry associations that sodium reductions could hurt rather than improve health are "not supported by science", the American Heart Association (AHA) has insisted… Read

'Processed' foods are often high in sodium – but what's a processed food? About 75% of the sodium in our diets comes from processed foods. It's a regularly cited figure – but what exactly is a 'processed' food? Consumers might be surprised… Read
But this one just in: