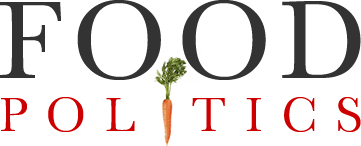 by Marion Nestle
The soda industry strikes back
Mayor Bloomberg's proposal to limit sugary soft drinks to 16 ounces has elicited an industry counter attack as well as much attention to the role of sugary drinks in obesity.
The soda industry established a new organization, "Let's Clear It Up," with a website to spin the science.
Soda is a hot topic. And the conversation is full of opinions and myths, but not enough facts. America's beverage companies created this site to clear a few things up about the products we make. So read on. Learn. And share the clarity.

Myth: The obesity epidemic can be reversed if people stop drinking soda. [I'm not aware that anyone is claiming this.  Bloomberg's proposal is aimed at making it easier for soda drinkers to reduce calorie intake.]

Fact: Sugar-sweetened beverages account for only 7% of the calories in the average American's diet, according to government data. [The figure applies to everyone over the age of 2—to those who do and do not drink sodas.  The percentage is much higher for soda drinkers.]
Coca-Cola is using a second strategy: divert attention.  Its full-page ad in Sunday's New York Times said:
Everything in moderation.  Except fun, try to have lots of that.

Our nation is facing an obesity problem and we're taking steps to be part of the solution.  By promoting balanced diets and active lifestyles, we can make a positive difference.
By "balanced diets" Coke means varying package sizes.  By "active lifestyles" Coke means partnerships with Boys & Girls Clubs of America and gifts to national parks.  This approach merits its own website: livepositively.com.
And then we have USA Today's not-to-be-missed interview with Katie Bayne, Coke's president of sparkling beverages in North America:
Q: Is there any merit to limits being placed on the size of sugary drinks folks can buy?

A: Sugary drinks can be a part of any diet as long as your calories in balance with the calories out. Our responsibility is to provide drink in all the sizes that consumers might need. [Need?]

Q: But critics call soft drinks "empty" calories.

A: A calorie is a calorie. What our drinks offer is hydration. That's essential to the human body. We offer great taste and benefits whether it's an uplift or carbohydrates or energy. We don't believe in empty calories. We believe in hydration. [Water, anyone?]
Finally, there's the Washington Post interview with Todd Putman, a former Coke marketing executive now in recovery.
Putman, whose positions at Coca-Cola included U.S. head of marketing for carbonated drinks, said in the interview that among his achievements was tailoring the company's national advertising campaigns to specific groups. The approach helped Coca-Cola intensify marketing to target audiences such as African Americans and Hispanics.

"It was just a fact that Hispanics and African Americans have higher per capita consumption of sugar-based soft drinks than white Americans," he said. "We knew that if we got more products into those environments those segments would drink more."
Is the soda industry behind the Center for Consumer Freedom's Nanny Bloomberg ad?  I've yet to hear denials.