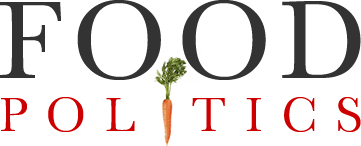 by Marion Nestle
USDA supports Meatless Monday? Not a chance.
I was asked by a reporter yesterday for comment on the press release issued by the National Cattlemen's Beef Association (NCBA) in response to USDA's announced support of the Meatless Monday campaign.  
What? 
My immediate reaction: It's pretty unbelievable that USDA would support Meatless Monday. Where's the USDA statement? [see addition below]

The NCBA press release said:
The U.S. Department of Agriculture's (USDA) recent announcement that the agency embraces the "Meatless Monday" concept calls into question USDA's commitment to U.S. farmers and ranchers. USDA stated "one simple way to reduce our environmental impact while dining at our cafeteria is to participate in the "Meatless Monday" initiative."

NCBA said Meatless Monday "is an animal rights extremist campaign to ultimately end meat consumption" and "NCBA will not remain silent as USDA turns its back on cattlemen and consumers."
Without having seen what USDA said, I told the reporter:
If USDA is really supporting Meatless Monday, that's big news. Historically, the USDA has worked hand in glove with the meat industry and has firmly resisted suggestions that it would be healthier for people and the planet to eat less meat.

The meat industry complained that the 2010 dietary guidelines pushed seafood and that meat got lost in protein in MyPlate, so they are supersensitive to this issue. Anyone who has ever been to a feedlot or industrial pig farm knows that the environmental issues are huge. You can smell them from miles away.
And what did the USDA actually say?  Oops.  Mistake.
According to the Boston Globe:
The Agriculture Department says a statement on its website encouraging its employees not to eat meat on Mondays was made without proper clearance.

The posting earlier this week was part of an internal newsletter that discusses how staff can reduce their environmental impact while dining at the agency's cafeteria.

….USDA spokeswoman Cortney Rowe says the department does not endorse the "Meatless Monday" initiative, which is part of a global public health campaign.
Apparently, the USDA pulled the statement within minutes after the NCBA statement went out. 
How did USDA announce this to the public?  On Twitter!
USDA MT @usdapress: USDA does not endorse Meatless Monday. Statement on USDA site posted w/o proper clearance. It has been removed // @FarmBureau
 Food politics in action!
Addition, June 27: Here's the original USDA Newsletter that caused all this fuss.  Scroll to page 3.