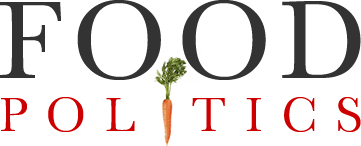 by Marion Nestle
Daily News Op-Ed: Bloomberg's soda 'ban' should be only the beginning
My double-page op-ed in today's New York Daily News:
Liberty from big soda: Why Bloomberg's 'ban' should be only the beginning of a public health revolution
Barring any late legal surprises, Mayor Bloomberg's 16-ounce cap on sugary sodas goes into effect on Tuesday, March 12. After that, restaurants, movie theaters, sports venues and food carts will not be permitted to sell extra-large portions of sugar-packed drinks.
Stay calm. This does not signal the end of democracy in America. This is not the nanny state gone out of control.
If we want Americans to be healthy, we are going to have to take actions like this – and many more – and do so soon. It's long past time to tax sugar soda, crack down further on what gets sold in our schools, tackle abusive marketing practices, demand a redesign of labels – and extend the soda cap, no matter how controversial it may seem. This must be the beginning, not the end, of efforts toward a healthier America.
In short, we need a series of serious changes to make the healthy choice the easy choice. The soda size cap is a nudge in that direction. You will still be able to drink all the soda, and down all the sugar, that you want. The cap on soda size makes it just a tiny bit harder for you to do so.
That "tiny bit harder" is its point. If you have to order two sodas instead of one, maybe you won't. If you have to add sugar to your coffee drink yourself, maybe you will only add one or two teaspoons instead of the 10 or more someone else put in there for you.
For a public health nutritionist like me, the soda size cap is a terrific idea. Unlike other foods, sodas are a unique target for intervention. They contain sugars – and sugar calories – but nothing else of nutritional value. They are candy in liquid form. Candy has a place in healthy diets, but a small one. So it should be for sodas.
It's no surprise that people who drink large amounts of liquid candy have worse diets, are heavier, and have more health problems than those who do not. And it looks like the body doesn't compute the calories from liquid sugars as accurately as it does for sugars in foods.
On top of that, big sizes make the problems worse. To state the obvious, larger portions have more calories. If an 8-ounce soft drink provides 100 calories, then a 16-ounce drink provides 200, a 32-ounce drink provides 400 and a 64-ounce drink provides 800.
But big sizes also have other effects. They induce people to eat and drink more than they would if given smaller portions. Big sizes confuse people into underestimating the number of calories consumed.
Most people eat whatever size is in front of them – the "default," in public health-speak – and are content with that amount. So a reasonable goal of public health intervention is to change the default drink to a smaller size. Hence: Bloomberg's 16-ounce size cap.
From my nutritionist's perspective, a 16-ounce soda is still generous. Just one contains the equivalent of 12 packets of sugar. Just one provides 10% of the daily calorie needs of someone who typically eats 2,000 calories a day. Just one contains the upper limit of sugar intake that health officials recommend for an entire day. Once you down a 16-ounce soda, it's best to stop right there.
You may find this hard to believe, but the original Coca-Cola was 6.5 ounces, smaller than any size available today. In the 1950s, Coke advertised its 16-ounce bottle as large enough to serve three.
Times have changed. The sizes of foods and drinks have expanded, and so have waistlines. This is no coincidence. On the basis of calories alone, larger portions are all you need to explain why Americans are putting on pounds.
City officials concerned about the health of their citizens, as those in New York most definitely are, want to do everything they can to prevent obesity and the illnesses that go with it. Their rationale is humanitarian, but also fiscal. Poor health is expensive for both individuals and society. You don't believe that excessive weight is an issue? Just ask the military.
We can thank Big Soda – Coca-Cola, Pepsi and their trade association, the American Beverage Association – for the contribution of big sodas to weight gain. Soda companies have spent fortunes to create demand, to make drinking large amounts seem normal, to market sodas as essential for health and happiness and, these days, to fight Bloomberg's soda cap and take the city to court over it.
Soda companies may make things you like to drink, but they are not social service agencies. Their job is to get you to buy more soda to satisfy the financial demands of investors. They are about business. They are not about fun or happiness or personal choice – and they certainly are not about health.
The soda industry may profess to care more about your well-being these days, but it ultimately will not do anything to promote health if doing so harms sales.
So-called "nanny-state" measures – like bans on driving while drunk, smoking in public places and, now, selling absurdly large sugary drinks – help to level the playing field. Such measures are about giving everyone an equal opportunity to live a safer and healthier life.
At the moment, it is up to you to make healthier choices, but that's not easy in the face of relentless soda marketing. Governments have a responsibility to provide healthier environments for their citizens.
Here are some additional actions New York City should take, if only it were allowed to.
Close the loopholes. The city does not have jurisdiction over sales of sodas in convenience stores and supermarkets. The state does. Gov. Cuomo denied Mayor Bloomberg's request to extend the size cap to those stores, not on principle but because he hadn't thought about it. He should, right now. Let's keep all sugary drinks to 16 ounces or less.
Fix the price differential. A 7.5-ounce can of soda costs twice as much per ounce as a two-liter bottle, and you can't buy just one; it comes in an 8-pack. Price determines sales. If a 16-ounce soda costs a dollar, a 32-ounce soda should cost two dollars.
Tax sodas. Most people wouldn't dream of eating candy all day, but soda companies have made it seem normal to drink sodas from morning to night. Raising the price of sodas would discourage sales, especially among young people most susceptible to marketing efforts and most vulnerable to weight gain. A one-cent tax per ounce should do the trick and raise plenty of needed revenue besides.
Remove vending machines from schools. Yes, the Beverage Association only puts "better-for-you" drinks in school vending machines, but sugar-filled sports drinks are still liquid candy. And kids should not have to pay for water in schools.
Restrict marketing of sodas to children. Soda companies market extensively to children and adolescents, especially those in low-income neighborhoods. Just look at billboards, celebrity photos on soda cans and Pepsi's $50 million dollar deal with Beyoncé. They should not be permitted to market to kids this way. We already have restrictions on cigarette and alcohol marketing to kids. It breaks no new ground to add sodas to the list.
Don't let SNAP (food stamp) benefits be used for sodas. Bloomberg tried this, but the federal Department of Agriculture said no. There is absolutely no reason that taxpayer-subsidized food assistance for low-income people should go toward junk with no nutritional value. He should try again.
Show full calories on the front of containers. The current way calories are tallied, in a measure called "calories-per-serving," is confusing because the servings are unrealistically small and people don't do the math. Soda cans already give the full calories in tiny type on the Nutrition Facts label, but I want to see the full calories in big type on the front.
Actions like these will evoke ferocious opposition from the soda industry, and it will spare no expense to make sure such things never happen. We would surely hear more and more howls of "nanny-state" from those who insist Bloomberg has led us to the brink of a public health police state. Polls say that many New Yorkers oppose the 16-ounce cap and would oppose measures like this, too.
But I can't tell whether the opposition comes from genuine concern about limits on personal choice or because soda companies have spent millions of dollars to protect their interests and gin up histrionic, misinformed opposition.
Come Tuesday, the 16-ounce soda is the new default size in New York City. While waiting for the court decision and for politics to play out, why not give it a chance? Maybe it will help you live a healthier and longer life.