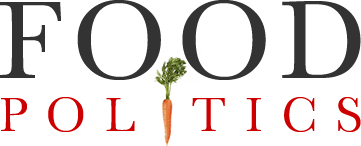 by Marion Nestle
Questions about food politics: iPhone apps and phytonutrients
I'm always happy to answer questions dealing with issues related to food politics.  Here are responses to two that came in last week.  I'll do another two sometime this week. 
Q1.  I was just introduced to your book, What to Eat, and I read it, cover to cover, thoroughly enjoying each area of the market.  I am emailing in hopes that you have a suggested iPhone App, which suggests or promotes healthy eating.  Not so much calorie counter Apps, but Apps which make suggestions towards healthier options or perhaps even suggests macro or micronutrients which we may be lacking based on the foods we are purchasing and consuming.  Any help is much appreciated!  Thanks!
A.  I'm a diehard BlackBerry user and haven't a clue.  Readers: suggestions?
Q2.  I'm an NYU MPH student and will probably be taking your Food Advocacy class next spring.  I adore your blog and as of late have been especially appreciative of your Farm Bill breakdowns. (What a confusing document!)  I was wondering what your take was on the NYTimes article that appeared in the Week in Review on Sunday titled, "Breeding the Nutrition out of Our Food" by Jo Robinson.  Have we really been losing the phytonutrients in our food since we became farmers?
A.  Ms. Robinson, whose terrific new book, "Eating on the Wild Side" is out this week, collected data on phytonutrient (plant antioxidant) levels in wild foods and their bred-to-be-less-bitter supermarket counterparts.  The wild ones have more, but they usually don't taste as good.  The idea that foods now are less nutritious than foods in the past fits conveniently with concerns about our industrialized food system.  But data on trends in nutrient content are difficult to come by (the methods change over time), and differences in health benefits are impossible to assess.  The bottom line: people who eat fruits and vegetables—even supermarket varieties—are healthier than people who don't.  Would they be even healthier if the vegetables were more bitter because of the phytonutrients?  Hard to say.  I'm going to eat my veggies and not worry about this one.