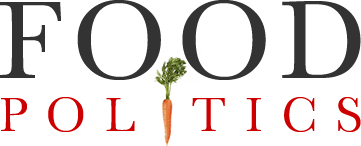 by Marion Nestle
Nuclear negotiations with Iran: the food politics
My dear friend, the food writer, cookbook author, and restaurant consultant Joyce Goldstein, is also a careful analyst of today's global political scene.
She points out that the New York Times account (exceptionally clear, by the way) of the ongoing nuclear talks with Iran suggests one reason why they are going on endlessly:
To sustain itself during its marathon meetings, the United States negotiating team has since the beginning of June consumed at least 10 pounds of Twizzlers, 30 pounds of mixed nuts and dried fruit, 20 pounds of string cheese and more than 200 Rice Krispie Treats, according to its informal count.
Fruits and vegetables anyone?
Let's join in a chorus of "Give Peas a Chance."