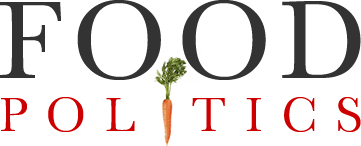 by Marion Nestle
Question: What is the U.S. doing to help address world hunger?
Answer: plenty or not enough, depending on how you look at it.
The U.S. Agency for International Development (USAID) has just released a report summarizing the present status of its activities: Feed the Future — Progress Report: Growing Innovation, Harvesting Results.
It also has released a scorecard for holding the agency accountable for what it does: Feed the Future — Progress Scorecard.
The report is written in government-speak and it's hard to know what to make of it.
The government has met some of its promises, but not all.  One reason for the "not all" may be that only one-third of the nearly $4 billion pledged for reducing world hunger has actually been spent.
It's not a coincidence that USAID released the report while President Obama is visiting countries in Africa, and while legislators are trying to figure out what to do about the fallout from not passing the farm bill.  The farm bill includes food aid programs.
Food aid, as I have discussed previously, is tied to domestic farm policy in a particularly inconvenient way: American surplus farm commodities have to be shipped on American carriers, something that takes time and benefits American producers and shippers perhaps more than it does recipient countries.
Can this situation be changed to increase the benefit to international partners?  Not likely with this Congress.