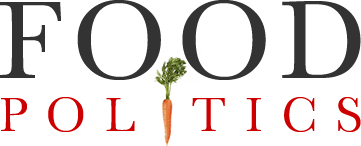 by Marion Nestle
Healthy foods can carry toxic bacteria, alas
As always, I am indebted to Bill Marler for keeping me up to date on the latest outbreaks of foodborne illness.
The most recent—26 illnesses, 6 hospitalizations—seems caused by E. coli 0157:H7 contaminating grilled chicken salads sold by Trader Joe's in California, Washington and Arizona.  According to the CDC:
Epidemiologic and traceback investigations conducted by local, state, and federal officials indicate that consumption of two ready-to-eat salads, Field Fresh Chopped Salad with Grilled Chicken and Mexicali Salad with Chili Lime Chicken, produced by Glass Onion Catering and sold at Trader Joe's grocery store locations, are one likely source of this outbreak of STEC O157:H7 infections.
These are multiple ingredient products.  What could be the source of the toxic E. coli?
Marler provides some labels: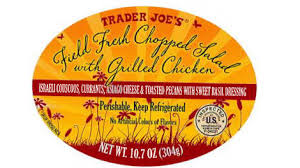 The contaminated ingredient could be Israeli couscous, something I can't read (currents?), asiago cheese & toasted pecans with sweet basil dressing (first label), or white chicken meat, mixed greens, corn, peppers, sun-dried tomatoes, pepitas and asiago cheese with a jalapeno Caesar dressing (second label).
This will be hard to figure out.  There are lots of possibilities.  Likely candidates are mixed greens and jalapenos—this would not be the first time—but others could also have gotten contaminated along the way.
Marler also took the trouble to go to the website of Glass Onion Catering.  You will be happy to learn that this company's " salads, sandwiches, wraps and treats are crafted to the client's specific recommendation. We only use the freshest, most natural ingredients to promote a healthy lifestyle," and that the products are
Trans fat free
No artificial colors or flavorings
No preservatives or additives
No genetically modified ingredients
Locally grown produce used (when possible)
Too bad they aren't also free of this nasty form of E. coli.
Everyone who prepares or produces food needs to know how to follow standard food safety procedures.
You should not have to worry about buying foods at Trader Joe's that make you sick.
To keep up with this is not so easy.  Because the products have meat (chicken) and vegetables (mixed greens, etc), they are regulated by two agencies: FDA and USDA.  This means three agencies are involved:
Wouldn't it make more sense to have one food safety agency?  Just asking.