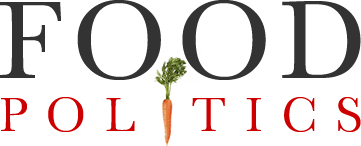 by Marion Nestle
Is Food Studies the end of civilization? Really?
Before my talk at the University of North Carolina Charlotte this week, I was introduced by its Chancellor who read from an article written by Mary Grabar who works for a local conservative think tank, the Pope Center.
"Food studies" has become an academic growth area, adding to the deterioration of the humanities, and to the advancement of leftist ideologies. No doubt our universities will be producing many more "scholars" investigating all aspects of food: food and race, food and capitalism, food and gender, etc.  But we will have fewer graduates familiar with literary and philosophical masterpieces.  Fewer will be able to produce good writing—or real food.
The audience was amused, as was I, and I think my talk was a sufficient rebuttal on its own.
But I do want to comment on her remarks directly.
Food Studies, she argues, has "little to do with legitimate intellectual endeavors like agriculture or nutrition science. Instead, food becomes another lens through which to examine oppression, sustainability, and multiculturalism."
It most certainly does all of that, and is perfect for those purposes.
What could be possibly be more democratic than food?
Everyone eats.
Food studies, which tends to promote local, organic, seasonal, sustainable and healthful food, inherently questions the industrial food system.  It also promotes food equity, food justice, and food sovereignty.  No wonder it worries conservatives.
I, for example, teach courses in food policy, politics, and advocacy, in which I teach students how to analyze food systems and advocate for those that promote the health of people and the planet.
When my academic department at NYU inaugurated our undergraduate, master's, and doctoral programs in food studies in 1996—18  years ago!—we could hardly have predicted how quickly the field would spread to other universities or how brilliant and exciting so much of its scholarship would turn out to be.
I'm proud of my own contributions to the field and thrilled that Food Studies has gotten to the point where conservative critics worry that it might be effective.
In one sense, Ms. Grabar's article helps the field.  It contains links to websites for several Food Studies programs, ours among them.
For other such links and additional resources, go to the website of the Association for the Study of Food and Society.
This is a wonderful field of study.  Come join us!