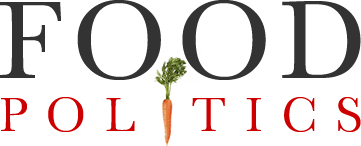 by Marion Nestle
The White House says "Drink Up," meaning water
Living in New York as I do, I miss the fun in Washington, DC, of which there was much yesterday related to the First Lady's "Drink Up" campaign with the Partnership for a Healthier America.   Here's one of ObamaFoodorama's tweets on the event.
Listen to what the First Lady is saying in these selected quotes, some of which deal with the current furor over school meals:
When the Drink Up campaign was launched last year, it had one simple goal – to get kids and families excited about drinking water.
As Drink Up encourages more people to drink more water, we also want to help make choosing water an easier choice…water for more people wherever they are, whenever they want it, however they want it – be it tap, filtered or bottled.
In a number of school districts, participation in the lunch program has actually risen. And there's a simple reason for that: It's because those districts actually put some effort into marketing the new meals to the kids. They didn't just sit back and say, well, the kids like junk food so let's just give them junk food.
Instead, they embraced higher standards and more nutritious options, and they worked hard to get the kids excited about them. They did taste tests. They came up with new recipes. They did everything they could to make healthy eating fun.
Today, we're seeing the results, especially among younger kids…They're getting used to healthier food, and they're developing healthy habits early on that will stay with them for the rest of their lives. And that's our job as adults… And no matter what, we don't give up on our kids. And we don't give up on their health and their futures.
We need to keep pushing to market healthy products to children and families. We need to keep working together within industries and across industries to help our kids lead healthier lives.
Even better, The California Endowment announced that it will increase community access to water in South Kern County and the Eastern Coachella Valley by installing hundreds of taps and dispensers to fill reusable water bottles in schools and public places.
Let's have more tap-water initiatives, please.
The more people drink tap water, the greater will be public support for maintaining the quality of municipal water supplies.
Addition, July 24:  The School Nutrition Association wrote the First Lady to complain that it found her remarks offensive.