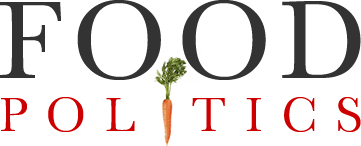 by Marion Nestle
It's salt war time again: new research, arguments over public health recommendations, and issues of conflicts of interest
Here are the burning questions about sodium (which is 40% of salt) intake:
(a) Does too much dietary sodium cause high blood pressure?   Answer: an unambiguous yes (although not necessarily in everyone).
(b) Are public health recommendations to reduce salt intake warranted?  I think so, but others disagree.
(c) If so, to what level?  Although virtually all committees reviewing the evidence on salt and hypertension view public health recommendations as warranted, and advise an upper limit of about 2 grams of sodium (5 grams of salt, a bit more than a teaspoon (see table from the Wall Street Journal), these too are under debate.
These recommendations are strongly opposed by The Salt Institute, the trade association for the salt industry, its industry supporters, and some groups of investigators.
Now the New England Journal of Medicine weighs in with three new studies, an editorial, and a cartoon video.  The papers:
Start with the video,  narrated by the editor, Dr. Jeffrey Drazen (click on video link on the right side).  It gives an excellent summary of the three papers.  Despite their methodological differences, all confirm (a).  They disagree on (c) and, therefore, (b).
Are public health recommendations warranted?
But note Dr. Drazen's suggestion: "throw away the salt shaker."
He is in favor of reducing salt intake.  But the salt shaker is not where most dietary salt comes from.  At least 75% of salt in American diets comes from restaurant and processed foods.   As Dr. Yoni Freedhoff explains:
If you'd like to reduce the sodium in your diet, rather than keep a running tally of how much you're actually consuming, why not try instead to determine what percentage of your diet comes from restaurants and boxes? Sure, there's data to suggest you might simply find other ways to add salt to your diet. But visit restaurants and consume processed foods less frequently, and I'd be willing to wager that you'll be far more likely to see health benefits than were you to simply fill your grocery cart with low-sodium versions of highly processed foods.
Individuals cannot cut down on salt on their own.  That's one reason why public health policies are needed—to get restaurants and processed food manufacturers to reduce salt content.
Two of the papers say that the only people who need to cut down on salt are those with hypertension and older people (one of the studies says that means people over age 55).
You can't expect 70 or 80 million people to reduce salt intake on their own.  Hence: public health recommendations.
Conflict of interest alert
Some of the investigators report receiving grants or fees from companies that make anti-hypertensive drugs but the editorial accompanying the papers is of special concern.   Written by Dr. Suzanne Oparil, it says about one of the studies:
These provocative findings beg for a randomized, controlled outcome trial to compare reduced sodium intake with usual diet. In the absence of such a trial, the results argue against reduction of dietary sodium as an isolated public health recommendation.
These conclusions sent me right to her conflict-of-interest disclosure statement.  Although Dr. Oparil reports receiving grants or fees from companies making anti-hypertensive drugs—-and, even more remarkable, from The Salt Institute—she states that she has no conflicts of interest.
I think she does.
Implications
Her editorial is especially unfortunate because it influences the way reporters write about the studies.
The Associated Press account, for example, begins:
A large international study questions the conventional wisdom that most people should cut back on salt, suggesting that the amount most folks consume is OK for heart health — and too little may be as bad as too much. The findings came under immediate attack by other scientists.
As well they should.  Blood pressure rises with age and huge swaths of the population would be healthier eating less salt.   The AP reporter quoted me saying so:
"People don't eat salt, they eat food," she said. "Lots of people have high blood pressure and lots of people are getting older," making salt a growing concern, she said. "That's the context in which this is taking place."
The three studies are complicated to interpret because of differences in methods and discrepancies in outcomes.  They agree that if you already have hypertension or are "elderly," or eat a lot of salt, you should cut down.
This seems like a good idea for just about anyone.   People don't eat salt; they eat foods containing salt, and foods high in salt tend to be high in other things best consumed in small amounts.
The studies also talk about the protective effects of potassium, best obtained from vegetables.
Eat a lot of vegetables and not too much junk food, and you don't have to worry about any of this.