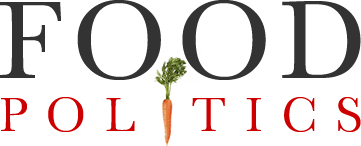 by Marion Nestle
Oops. USDA is NOT requiring poultry packers to test for Salmonella and Campylobacter
Christopher Waldrop, who directs the Food Policy Institute at Consumer Federation of America writes to correct something  I said in a post last week about USDA's poultry rule.  He says:
USDA will actually NOT be requiring plants to test for Salmonella or Campylobacter. Their press release makes it sound like they will, but if you read the final rule, USDA actually allows the plant to decide for itself what to test. It could be pathogens like Salmonella or Campy, OR it could be indicator organisms like generic E. coli. USDA does require testing at 2 points along the line – pre-chill and post-chill and will require a minimum testing frequency, but plants are not obligated to test for the pathogens that make people sick.
He explained this problem to Food Safety News and in a press release.
He points out that what the USDA really said is on page 229 of its statement of policy in the section on Indicator Organisms and Baseline:
Comment: Several consumer advocacy organizations argued that instead of allowing establishments to choose which organism to test for, FSIS should require that establishments test for Salmonella and Campylobacter. The comments said that these are the two pathogens of greatest public health concern in the products affected by the proposed rule and together account for nearly half of all poultry-related outbreaks in the United States…Response: As discussed above, the purpose of the proposed new testing requirements is to ensure that establishments are effectively monitoring process control on an ongoing basis. FSIS has determined that this can be achieved by sampling pre-and post-chill for enteric pathogens, such as Salmonella and Campylobacter, or for an appropriate indicator organism…The cost to analyze samples for Salmonella and Campylobacter is much greater than that to analyze for indicator organisms…FSIS has concluded that such costs would not be justifiable when measurements of indicator organisms are as effective for monitoring process control as measurements of pathogens.
Here's what USDA says in its press release:
Poultry companies will have to meet new requirements to control

 

Salmonella

 

and

 

Campylobacter.
FSIS will now require that all poultry companies take measures to prevent Salmonella

 

and

 

Campylobacter

 

contamination.
All poultry facilities will be required to perform their own microbiological testing at two points in their production process to show that they are controlling

 

Salmonella

 

and

 

Campylobacter.
I can see why I misunderstood this as announcing a requirement for testing at two points for Salmonella and Campylobacter.
But the USDA is leaving it to the production plants to demonstrate that cheaper testing for an indicator organism like nonpathogenic forms of E. coli will adequately demonstrate that chickens are free of pathogenic Salmonella and Campylobacter.
Fingers crossed that it works.
Addition, September 11:  Food and Water Watch has filed suit against the USDA to block the new poultry inspection system on the grounds that it privatizes inspection responsibility, at great hazard to the public.