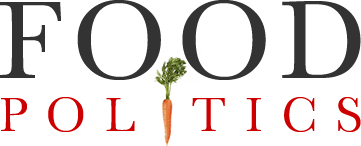 by Marion Nestle
The loss of pleasure caused by menu labeling?
Several readers alerted me to a Reuters article about the FDA's "lost pleasure" analysis of the effects of the new menu labeling rules.
U.S. health regulators estimate that consumers will suffer up to $5.27 billion in "lost pleasure" over 20 years when calorie counts on restaurant menus discourage people from ordering french fries, brownies and other high-calorie favorites.

The lost-pleasure analysis, which is criticized by some leading economists and public health groups, was tucked into new regulations published last month by the U.S. Food and Drug Administration…Public health advocates alerted Reuters to the inclusion of the analysis, which they say makes such regulations more vulnerable to challenges by industry because it narrows the gap between the government's projections of a regulation's benefits and costs. Amit Narang, an attorney at Public Citizen, said the lost pleasure calculation could help companies or trade groups to challenge the menu rule in court.
I searched the FDA's Federal Register notice but could not find the word "pleasure" anywhere in it.
No wonder.  I was looking at the wrong document using the wrong search term.
The right document is the FDA's impact analysis of menu labeling. The correct term is "consumer surplus" (see page 92).
If consumers respond to this information [calorie labels] by reducing consumption there will be a loss in consumer welfare associated with substitution away from certain food…We acknowledge that the reduction in consumer surplus, as a proportion of gross benefits, could range from 0 to 100 percent. Due to limitations in available data regarding the degree to which consumer surplus is lost in the face of consumption changes as a result of menu labeling…we simply adjust gross benefits downward by the midpoint of the range, or 50 percent, uniformly distributed between 10 and 90 percent, and estimate the loss in consumer surplus to range from $2.2 billion to $5.27 billion.
The readers who sent this to me were incredulous that an economic value—in the billions, yet—would be assigned to eating less junk food.
I had heard this before.  Some years ago, I gave a talk on obesity to a conference of agricultural economists.  During the Q and A, I was asked how I accounted for the costs of the loss of pleasure people might feel for not being able to eat so much.
I did not have a good answer to that question then, and I still don't, other than suggesting that the pleasures of health easily compensate for those costs.
But you have to love the way economists think, no?