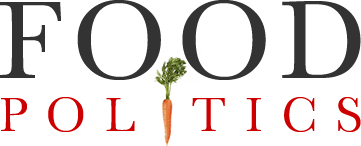 by Marion Nestle
2015 Dietary Guidelines: more congressional micromanagement
The 2015 Dietary Guidelines Advisory Committee is meeting today by teleconference.
One issue, no doubt, will be the House directive in the appropriations bill (page 50 of this draft):
Dietary Guidelines.—The Committee is concerned that the advisory committee for the 2015 Dietary Guidelines for Americans is considering issues outside of the nutritional focus of the panel. Specifically, the advisory committee is showing an interest in incorporating sustainability, climate change, and other environmental factors and production practices into their criteria for establishing the next dietary recommendations, which is clearly outside of the scope of the panel. The Committee directs the Secretary to ensure that the advisory committee focuses only on nutrient and dietary recommendations based upon sound nutrition science and not pursue an environmental agenda. Should environmental or production factors be included in the panel's recommendations to USDA and
the Department of Health and Human Services, the Committee expects the Secretary to reject their inclusion in the final 2015 Dietary Guidelines for Americans.
Amazing, how Congress thinks it knows more about nutrition thank nutrition scientists.
Let's grant that Congress knows what the political fallout will be from these guidelines.
NPR interviewed Kate Clancy, who has been arguing for the need to include environmental considerations in dietary guidelines for years.
In 1986, nutritionist Kate Clancy, then teaching at Syracuse University, co-authored [with Joan Gussow] an article called "Dietary Guidelines for Sustainability." It was addressed to her colleagues, Clancy says. She wanted them "to take a broader view of what they were advising people to do, with regard to their diet. It wasn't just nutrients." She urged them to consider not just what foods contribute to personal health, but also what types of food "contribute to the protection of our natural resources."
Makes sense, no?
Too bad politics trumps science in this Congress.