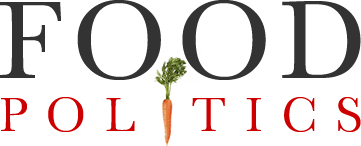 by Marion Nestle
Obama's budget calls for a single food safety agency!
Starting on page 82 of President Obama's 150-page, $4 trillion 2016 federal budget is a section on food safety calling for creation of a single food safety agency.
The Budget proposes to consolidate the FSIS [the Food Safety and Inspection Service of USDA] and the food safety related components of the FDA to create a single new agency within HHS…A single Federal food safety agency would provide focused, centralized leadership, a primary voice on food safety standards and compliance with those standards, and clear lines of responsibility and accountability that will enhance both prevention of and responses to outbreaks of food borne illnesses.  It would rationalize the food safety regulatory regime and allow the Federal government to better allocate resources and responsibilities.
Wow!  Food safety advocates in and out of government have been pushing for something like this since the early 1990s.
Food safety lawyer Bill Marler says:
The budget proposes an additional $301 million for the FDA to implement that law, though part of the money would come from user fees imposed on the food industry.

Where do I apply?
Is this a good idea?  It sure could be but the devil is in the details.
Does it have a chance in this Congress?  I'm not holding my breath.