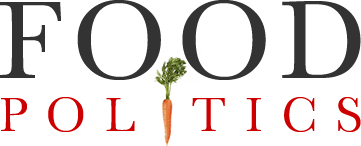 by Marion Nestle
Why we need regulation: education for SNAP participants?
PoliticoPro Morning Agriculture reports on USDA Secretary Tom Vilsack's speech to the Consumer Federation of America's National Food Policy Conference in Washington, DC.
About changing the rules so that SNAP benefits could not be used to buy unhealthy foods, Vilsack said:
[recipients] may buy a little bit more soda, but they might buy less salty snacks than we do.  They might purchase a little more of this than we do, than non-SNAP families, but we purchase a lot more sugary stuff than they do in other categories, so it's kind of a wash…It's also extremely difficult to set up a system that distinguishes between various items.  You set that system up, what's going to happen is that people won't be able to buy apple juice, they won't be able to buy orange juice… Our thinking is that a better way to approach this is to educate people so they make the right choice, they make the healthy choice [my emphasis].
Ah yes.  Education.  As an educator, I'm all for it, but let's get real.
For this analysis, I am indebted to Daniel Bowman Simon, who does the math:
SNAP benefits =  $70 billion in 2014, for about 46 million participants.
Therefore, the average SNAP participant received about $1504 per year in SNAP benefits.
The USDA provides Nutrition Education and Obesity Prevention Grants for SNAP (see section 241)= $375 million.
Therefore, the average SNAP participant received about $8 per year in nutrition education.
The USDA also provides double-value awards ($31 million) to help SNAP participants buy fruits and vegetables.
This adds an average of 66 cents per year for each SNAP participant to make healthy choices.
Thought for today:  How much nutrition education does $8.66 buy?
This is why regulation of the SNAP package is a better approach—once we get past congressional attempts to cut the program out of existance (an exaggeration, but you know what I mean).