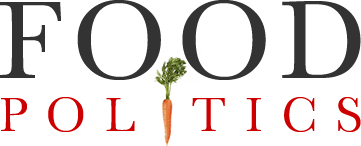 by Marion Nestle
Five more industry-funded studies with predictable results. Score since March: 52:1
Energy flux: staying in energy balance at a high level is necessary to prevent weight gain for most people.  Gregory A Hand, Robin P Shook, James O Hill, Peter R Giacobbi, and Steven N Blair.   Expert Rev. Endocrinol. Metab.  Early online, 1–7 (2015)
Conclusion: Maintaining energy balance at a higher caloric intake and expenditure should be a more successful long-term strategy for weight maintenance than reduced consumption or extreme caloric restriction at a low level of energy expenditure (a low energy flux) and improve intervention effectiveness for sustainable methods for body weight stability. [Implication: eat more to lose weight?]
Funding: GA Hand received non-restricted research funding and travel grant from The Coca Cola Company and a travel grant from International Life Sciences Institute. RP Shook received a travel grant from the Coca Cola Company. JO Hill received research support from the Coca Cola Company and the American Beverage Association. JO Hill is on the advisory board for McDonalds, General Mills, Curves, Consumer Goods Association, Calorie Control Council, International Food Information Council and McCormick Science Institute. JO Hill is a consultant for Walt Disney, has equity in Gelesis and Active Planet and is on the Board of Directors for International Life Sciences Institute and Livewell Colarado. SN Blair is the principal investigator on projects supported by unrestricted research grants from The Coca Cola Company to the University of South Carolina.
Comment: Some of these investigators were among those highlighted in the New York Times article revealing Coca-Cola's funding of research demonstrating that physical activity is more important than diet in weight maintenance.
Reducing obesity will require involvement of all sectors of society. James O. Hill, John C. Peters and Steven N. Blair. Obesity Volume 23, Issue 2, February 2015, Page: 255.
Conclusion: If the physical inactivity industry could commit to increasing physical activity by 78 calories a day per person, we would begin seeing some real success…we need innovative thinking, recognition that both food and physical activity are important, and open minds about how to engage all of society in making changes.
Disclosure: Dr. Hill reports personal fees from Coca-Cola, personal fees from McDonald's, grants from American Beverage Association, personal fees from Walt Disney Company, personal fees from General Mills, personal fees from Calorie Control Council, other from International Life Sciences Institute, and other from Retrofit outside the submitted work. In addition, Dr. Hill has a patent Energy Gap issued. Dr. Blair reports grants from Technogym and grants from Coca-Cola. Dr. Peters has no competing interests to disclose.
Comment: same investigators as in previous example.
Instant Oatmeal Increases Satiety and Reduces Energy Intake Compared to a Ready-to-Eat Oat-Based Breakfast Cereal: A Randomized Crossover Trial. Candida J. Rebello MS, RD, William D. Johnson PhD, Corby K. Martin PhD, Hongmei Han MS, Yi-Fang Chu PhD, Nicolas Bordenave PhD, B. Jan Willem van Klinken MD, PhD, Marianne O'Shea PhD & Frank L. Greenway MD.  Journal of the American College of Nutrition Published online: 14 Aug 2015.  DOI:10.1080/07315724.2015.1032442
Conclusion: Oatmeal suppresses appetite, increases satiety, and reduces energy intake compared to the RTEC [ready-to-eat cereal].
Funding: The trial was funded by Quaker Oats Center of Excellence and PepsiCo R&D Nutrition….
Impact of equol-producing capacity and soy-isoflavone profiles of supplements on bone calcium retention in postmenopausal women: a randomized crossover trial.  Jessica W Pawlowski, Berdine R Martin, George P McCabe, Linda McCabe, George S Jackson, Munro Peacock, Stephen Barnes, and Connie M Weaver. Am J Clin Nutr September 2015 vol. 102 no. 3 695-703.
Conclusion: Soy isoflavones, although not as potent as risedronate [a drug used to treat osteoporosis], are effective bone-preserving agents in postmenopausal women regardless of their equol-producing status, and mixed isoflavones in their natural ratios are more effective than enriched genistein.  [Equol is an isoflavone produced by intestinal bacteria]
Conflicts: CMW is on the scientific advisory board of Pharmavite [the maker of SoyJoy]. SB has a US patent on the use of conjugated isoflavones and the prevention of osteoporosis.
Agave Inulin Supplementation Affects the Fecal Microbiota of Healthy Adults Participating in a Randomized, Double-Blind, Placebo-Controlled, Crossover Trial.  Hannah D Holscher, Laura L Bauer, Vishnupriya Gourineni, Christine L Pelkman, George C Fahey, Jr., and Kelly S Swanson. J. Nutr. 2015; 145:2025-2032 doi:10.3945/jn.115.217331
Conclusions: Agave inulin supplementation shifted the gastrointestinal microbiota composition and activity in healthy adults. Further investigation is warranted to determine whether the observed changes translate into health benefits in human populations.  [Note: Agave inulin is a prebiotic, a fiber that can be metabolized by intestinal bacteria.  The study reports enrichment of fecal Bifidobacterium (the good kind)].
Funding: Supported in part by Global Nutrition R&D, Ingredion Incorporated, Bridgewater, NJ.  V Gourineni and CL Pelkman are employees of Global Nutrition R&D, Ingredion, Incorporated.  [Ingredion manufactures prebiotic fibers]
As always, please send examples, particularly of industry-funded studies that do not produce results in the sponsor's interest.