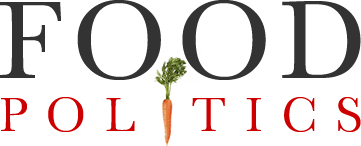 by Marion Nestle
Weekend reading (and cooking): Eating Well on $4 a Day
Leanne Brown.  Good and Cheap: Eat Well on $4 / Day.  Workman, 2015.
Leanne Brown is a graduate of our food studies program at New York University who, while in graduate school, became concerned about the plight of SNAP (food stamp) recipients who must feed their families on an average of $4 per day.
She wrote this book for them, first as a class project, then as an online gift, free for the taking.
It was downloaded 700,000 times.
Then she went to a Kickstarter campaign to self-publish the book.  At some point Workman picked it up.
It's won an award from the International Association of Culinary Professionals and a place for Leanne in Forbes 30 under 30 for 2015.
The book has truly delicious recipes.  It starts with tips useful for anyone on a food budget.
I'm proud of what she's accomplished.  The book is beautifully photographed, the recipes are terrific, and every time a copy is sold, Workman will donate another one to someone who needs it.