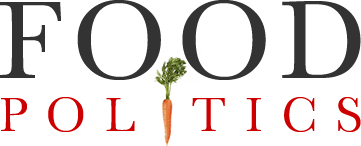 by Marion Nestle
Sugar science and politics: a roundup
First, the science
Study: obese kids lose weight and improve metabolic markers when sugars are removed from their diets.  The pediatrician Robert Lustig and his colleagues removed all sources of sugar from the diets of 43 extremely obese Latino and African-American children and teens, replacing the lost calories with starchy foods.  After nine days, the kids lost a little weight and greatly improved their metabolic markers.  We can argue about whether the effects are due to reduced calories, sugars, or fructose, and whether the results will hold up over a longer time period (as is explained in a careful critique).  But what's impressive is that it took only nine days to achieve highly statistically significant and beneficial improvements to occur.   This finding deserves further research. 
And now the politics
Action for Health Food supports Added Sugars on food labels.  I learned this from Politico Pro Morning Agriculture.  The group, backed by Houston philanthropists Laura and John Arnold, support Added Sugars on food labels.  Action for Healthy Food says that it works with communities to inform consumers about the health effects of added sugars and where they are in food and drinks, and to support policies to help people reduce sugar intake and the amount of sugar in foods.
The International Food Information Council (IFIC) opposes Added Sugars labels.  Such labels, it says, "run counter to rigorous research by the IFIC Foundation and US Food and Drug Administration (FDA) demonstrating that consumers instead could be misled, not enlightened, by the addition of an 'Added Sugars' line."
Also from Politico Pro Agriculture: Sam Kass favors Added Sugars labels.  Helena Bottemiller Evich did the interview:
Are you following the Nutrition Facts panel debate going on right now? There's a divide in the food industry on the issue of labeling added sugars. You have Nestle and Mars supporting added sugars labeling and a Daily Value, but there's also fierce opposition on the other side. I think it's clear that this issue is a high priority for the administration. Do you think that will come to fruition? Has that ship sailed?

In my book, that ship has sailed. It's absolutely the right thing to do for consumers. I think the FDA knows that and that's why they proposed it. I think the evidence firmly backs it and I just don't see a good argument not to do it. I think there's fierce opposition because some of these companies are putting way too much added sugars in their products, and they don't want that to be pointed out. But just like trans fats, this is one of these things where the health issues are pretty clear. I just don't see any legitimacy in their pushback.

They argue that people will be confused by the label.

Yeah, that's a nice claim.

They have studies showing that people are confused.

I'm sure they do. Money can buy whatever outcome you want. But I just think this one is clear as day, especially when you look at the diabetes epidemic and the relation to added sugars and health outcomes in this country.
Another from Politico Pro Agriculture: Nestlé and Mars have split with the Grocery Manufacturers Association over Added Sugars labeling.  "While the nation's leading food group, the Grocery Manufacturers Association, welcomes the FDA's labeling proposal about as much as it would a toothache, the pair of global powerhouses…are voicing support for even the thorniest details of the Obama administration's plans, both in the regulatory docket and in the media."  FDA's own research in support of Added Sugars leaves room for debate.
The courts have rejected class action claims about Whole Foods' use of the term "evaporated cane juice.   The plaintiff argued that this is a euphemism for sugar and is only used to hide sugar on foods labels.  The judge called the plaintiff "clueless, as elsewhere in his testimony he implies he knew ECJ was an unrefined form of added sugar: Added unrefined sugar is added sugar, no matter how Plaintiff tries to spin it."
It's Halloween and the Candy Industry is happy.  The industry considers October 31 its "Super Bowl," with sales expected to hit a record $2.6 billion, according to Politico.  The candy industry complains that sugar is being demonized by "public activists."  It is fighting to eliminate tariffs and quotas that protect sugar farmers and keep the price of U.S. sugar higher than on world markets. He said candy "plays a special, unique role in people's lives in terms of a happy and balanced lifestyle, and it really is a moment of pleasure."
On that note, trick or treat?