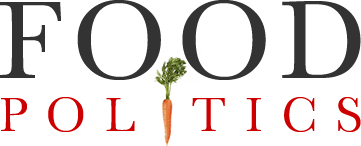 by Marion Nestle
The latest in food politics: yogurt wars!
You've heard of cola wars?  Try yogurt.
Here's Chobani's opening salvo from the New York Times on January 10, and Stephanie Strom's account of it:
The ad says:
Did you know that not all yogurts are equally good for you?…

Look, there's potassium sorbate as a preservative in Yoplait Greek 100.  

Potassium sorbate.  Really.  That stuff is used to kill bugs.

There's sucralose used as a sweetener in Dannon Light & Fit Greek.  

Sucralose?  Why?  That stuff has chlorine added to it!…

Chobani simply 100 is the only 100-Calorie Greek Yogurt without a trace of any artifical sweeteners or artificial preservatives.
Shades of The Food Babe!
Will yogurt wars help Chobani's bottom line?
According to Politico Pro
Chobani has taken its dispute over yogurt ingredients with rival Dannon to court, filing a lawsuit Friday that asks a federal judge to declare that claims made in its advertisements "do not constitute false, misleading, disparaging, or deceptive statements"…Chobani's lawsuit, filed in the U.S. District Court for the Northern District of New York, follows a letter sent by Dannon on Jan. 7 asking Chobani to discontinue the advertisements.
General Mills, which owns Yoplait, has also sued on the grounds that Chobani's claims are false and misleading (here are General Mills' complaint and supporting memo).
And here's Chobani's response.
We shall see.
Update, January 29
The Court ruled that Chobani cannot criticize its rivals' ingredients but can promote its products as natural.  The case is Chobani LLC v The Dannon Company, 3:16-cv-00030, filed in the Northern District of New York on January 8; and 0:16-cv-00052-MJD-BRT filed in the US District Court District Of Minnesota on Jan 10.
Chobani's press release puts a positive spin on the ruling (sent via e-mail):
Chobani Continues to Fight the Good Fight 

Continues to inform consumers about what's in their cup

NORWICH, N.Y., Jan. 29, 2016 /PRNewswire/ — Chobani, LLC, ("Chobani"), maker of the #1 Greek Yogurt Brand in America, said today that, while it awaits its day in court, it will continue its mission to call on food makers to use only natural ingredients. Chobani will respect the Court's preliminary decision as it continues its campaign to provide consumers with more information about natural ingredients versus artificial ingredients. As part of the ruling, the Judge said Chobani is free to continue to spread its message about the value of selecting natural ingredients.

"This is not a marketing campaign, it's a mindset campaign, and it outlines the difference between using only natural ingredients versus artificial ingredients," said Peter McGuinness, Chief Marketing and Brand Officer, Chobani. "While we're disappointed by the preliminary ruling, we're committed to continuing the conversation and it's good to see big food companies like General Mills starting to remove artificial ingredients from some of their products, like their cereals. In the end, if we can give more people more information while helping other food companies make better food, everyone wins."

Chobani launched its Chobani Simply 100 Greek Yogurt campaign on January 6, 2016, to help people make more informed decisions about their food choices. Chobani still believes that highlighting the difference between natural and artificial ingredients, specifically sweeteners and preservatives, is important.

Chobani is committed to making high quality Greek Yogurt with simple, authentic, and only natural ingredients, such as fresh milk from local farmers and wholesome fruit. Chobani Simply 100 Greek Yogurt is the only nationally distributed brand of reduced calorie Greek Yogurt that does not contain artificial sweeteners or artificial preservatives.