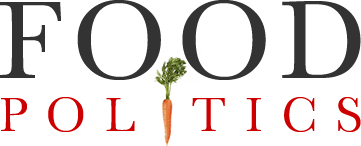 by Marion Nestle
Five more industry-sponsored studies. The score 100:9
If you have been following this saga, you will know that since mid-March 2015 I've been collecting examples of published research supported wholly or in part by food companies.  As of today, the collection includes 95 studies with results favorable to the sponsor's marketing interests as opposed to just 9 with unfavorable results.
Here are the most recent five.  These bring up general and specific questions that I'm pondering these days and I've indicated them in red.
The Effects of Water and Non-Nutritive Sweetened Beverages on Weight Loss and Weight Maintenance: A Randomized Clinical Trial.  John C. Peters, Jimikaye Beck, Michelle Cardel, Holly R. Wyatt, Gary D. Foster, Zhaoxing Pan, Alexis C. Wojtanowski, Stephanie S. Vander Veur, Sharon J. Herring, Carrie Brill, and James O. Hill. Obesity (2015) 00, 00–00. doi:10.1002/oby.21327.
Conclusions: Water and NNS [non-nutritive sweetened] beverages were not equivalent for weight loss and maintenance during a 1-year behavioral treatment program. NNS beverages were superior for weight loss and weight maintenance in a population consisting of regular users of NNS beverages who either maintained or discontinued consumption of these beverages and consumed water during a structured weight loss program. These results suggest that NNS beverages can be an effective tool for weight loss and maintenance within the context of a weight management program.
Funding agencies: The study was fully funded by The American Beverage Association. The American Beverage Association was not involved in the design, conduct, interpretation, or manuscript preparation of this study. Furthermore, a third-party organization (Biofortis-Provident) was hired at the PIs' request. Biofortis-Provident audited data at both clinical sites to check for the accuracy and integrity of the data…Disclosure: J.C.P. and J.O.H. received consulting fees from The Coca-Cola Company outside of the submitted work.
Questions: Does recruiting a third party to audit data increase confidence in the credibility of this study?  Isn't it more relevant to ask about how the research question is framed? 
Nutrition and Health Disparities: The Role of Dairy in Improving Minority Health Outcomes.  Constance Brown-Riggs.  Int. J. Environ. Res. Public Health 2016, 13(1), 28; doi:10.3390/ijerph13010028.
Conclusion: Because of the presence of lactase-producing cultures, yogurt is often a more easily digestible alternative to milk, and thus more palatable to people who experience symptoms of lactose intolerance. This was a key factor cited in the final rule to include yogurt in the Special Supplemental Nutrition Program for Women, Infants, and Children.
Funding: This work was supported by The Dannon Company Inc. (White Plains, NY). The Dannon Company Inc. provided information for this article but did not have final approval for its content.
Conflicts of Interest: Nutrition advisor for Dannon's One Yogurt Everyday Initiative, providing consultation services on the health issues affecting African Americans.
Protein Supplementation at Breakfast and Lunch for 24 Weeks beyond Habitual Intakes Increases Whole-Body Lean Tissue Mass in Healthy Older Adults.  Catherine Norton, Clodagh Toomey, William G McCormack, Peter Francis, Jean Saunders, Emmet Kerin, and Philip Jakeman.  Nutr. 2016; 146:65-69 doi:10.3945/jn.115.219022.
Conclusions: Protein supplementation at breakfast and lunch for 24 wk in healthy older adults resulted in a positive (+0.6 kg) difference in LTM compared with an isoenergetic, nonnitrogenous maltodextrin control. These observations suggest that an optimized and balanced distribution of meal protein intakes could be beneficial in the preservation of lean tissue mass in the elderly.
Funding: Supported by Food for Health Ireland and Enterprise Ireland grant CC20080001.  Author disclosures: C Norton, C Toomey, P Francis, J Saunders, E Kerin, and P Jakeman, no conflicts of interest. WG McCormack was an employee of Carbery Ingredients on secondment to Food for Health Ireland during the in vivo data collection and analysis.
Comment: The Carbery Group advertises itself as "a global leader in food ingredients, flavours and cheese."
Question: Why would Carbery put one of its employees to work on this study?
Dietary vitamin D dose-response in healthy children 2 to 8 y of age: a 12-wk randomized controlled trial using fortified foods.  Neil R Brett, Paula Lavery, Sherry Agellon, Catherine A Vanstone, Jonathon L Maguire, Frank Rauch, and Hope A Weiler.  Am J Clin Nutr 2016; 103:144-152 doi:10.3945/ajcn.115.115956.
Conclusion: Increasing the vitamin D intakes of young children through fortification of alternative dairy products results in significantly higher serum concentrations of 25(OH)D and a significantly greater proportion of children with serum 25(OH)D $50 nmol/L during periods of minimal ultraviolet B radiation exposure.
Supported by funding from Dairy Farmers of Canada, the Canadian Foundation for Innovation and Canada Research Chairs, and in-kind support from Agropur and Ultima Foods for the study products.
Question: Does providing study products introduce conflicts of interest?
Comparison of the DASH (Dietary Approaches to Stop Hypertension) diet and a higher-fat DASH diet on blood pressure and lipids and lipoproteins: a randomized controlled trial.  Sally Chiu, Nathalie Bergeron, Paul T Williams, George A Bray, Barbara Sutherland, and Ronald M Krauss.
Conclusions: The HF-DASH diet lowered blood pressure to the same extent as the DASH diet but also reduced plasma triglyceride and VLDL concentrations without significantly increasing LDL cholesterol
Supported by Dairy Management Inc. and by the National Center for Research Resources and the National Center for Advancing Translational Sciences, NIH, through University of California, San Francisco Clinical & Translational Science Institute grant UL1 RR024131.  RMK has previously received and is currently receiving research funding from Dairy Management Inc. for this and other projects. None of the other authors reported a conflict of interest. This was an investigator-initiated study, and its financial supporters had no role in the study design, implementation, data analysis, or data interpretation.
Question: 

Does this mean that the investigators decided what they wanted to study and then asked Dairy Management Inc for funding, knowing that Dairy Management would have congruent interests?  Does something like this increase confidence in the results?
I don't have clear, unambiguous answers to such questions and am collecting opinions in preparation for my next book project.  If you have thoughts about these matters, do share.