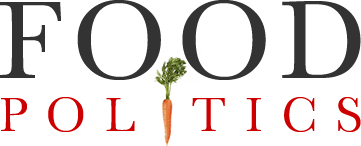 by Marion Nestle
This week's five industry-funded studies. The score: 105/9.
I've collected five more studies funded directly or indirectly by food companies or trade associations, with results useful for marketing purposes.  This brings the total to 105 that I've noticed since last March versus only 9 with results that must have disappointed the sponsors.
Canned Vegetable and Fruit Consumption Is Associated with Changes in Nutrient Intake and Higher Diet Quality in Children and Adults: National Health and Nutrition Examination Survey 2001-2010.  Marjorie R. Freedman, PhD; Victor L. Fulgoni III, PhD.  J Acad Nutr Diet. 2015  http://dx.doi.org/10.1016/j.jand.2015.10.013.
Conclusions: Results suggest CVþCF consumption was associated with higher intake of select nutrients, a higher-quality diet, and comparable adiposity measures and blood pressure.
Funding for this project was received from the Canned Food Alliance.  As senior vice president at Nutrition Impact, LLC, V. L. Fulgoni III provides food and nutrition consulting and database analyses for various members of the food and beverage industry.  No potential conflict of interest was reported by M. R. Freedman.
Regular Fat and Reduced Fat Dairy Products Show Similar Associations with Markers of Adolescent Cardiometabolic Health.   O'Sullivan, T.A.; Bremner, A.P.; Mori, T.A., Beilin, L.J., Wilson, C., Hafekost, K., Ambrosini, G.L., Huang, R.C., Oddy, W.H..Nutrients 2016, 8, 22.
Conclusion: Although regular fat dairy was associated with a slightly better cholesterol profile in boys, overall, intakes of both regular fat and reduced fat dairy products were associated with similar cardiometabolic associations in adolescents.
Conflicts of Interest: Therese A. O'Sullivan received a grant from The Dairy Health and Nutrition Consortium Australia…which provided funding for the analysis and write up of this study. No other authors declare a conflict of interest.
Suboptimal Plasma Long Chain n-3 Concentrations are Common among Adults in the United States, NHANES 2003–2004. Rachel A. Murphy, Elaine A. Yu, Eric D. Ciappio, Saurabh Mehta and Michael I. McBurney   Nutrients 2015, 7, 10282–10289; doi:10.3390/nu7125534.
Conclusion: Suboptimal LCn-3 [omega-3] concentrations are common among U.S. adults. These findings highlight the need to increase LCn-3 intake among Americans.
Conflicts of Interest: M.I.M., E.D.C. and R.A.M. are employees of D.S.M. Nutritional Products, L.L.C., manufacturers and suppliers of omega-3 nutritional lipids. E.Y. and S.M. have no conflicts of interest to disclose.
Red Raspberries and Their Bioactive Polyphenols: Cardiometabolic and Neuronal Health Links.  Britt M Burton-Freeman, Amandeep K Sandhu, and  Indika Edirisinghe.  Adv Nutr January 2016 Adv Nutr vol. 7: 44-65, 2016. doi: 10.3945/​an.115.009639
Conclusion: The body of research is growing and supports a potential role for red raspberries in reducing the risk of metabolically based chronic diseases.
Funding: Supported in part by various donors and the National Processed Raspberry Council.
Dietary flavonoid intake and incidence of erectile dysfunction. Aedín Cassidy, Mary Franz, and Eric B Rimm.  American Journal of Clinical Nutrition. First published ahead of print January 13, 2016 as doi: 10.3945/ajcn.115.122010.
Conclusions: These data suggest that a higher habitual intake of specific flavonoid-rich foods is associated with reduced ED incidence. Intervention trials are needed to further examine the impact of increasing intakes of commonly consumed flavonoid-rich foods on men's health.
Authors' disclosure: AC and EBR received funding from the US Blueberry Highbush Council for a separate project unrelated to this publication.
Comment: The University of East Anglia, where the lead author works, sent out a press release "Blueberries associated with reduced risk of erectile dysfunction."