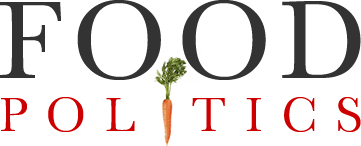 by Marion Nestle
Michelle Obama: The Legacy of Let's Move!
Tomorrow afternoon, First Lady Michelle Obama will be talking about the impact of her Let's Move! initiative to end childhood obesity in a generation.  She is expected to say something there about the future of the White House kitchen garden.
In the meantime, two reporters wrote accounts of her legacy yesterday (both quote me).
VOX
Julia Belluz talks about "how Michelle Obama quietly changed what Americans eat."
I spoke with a dozen people who worked closely on her campaign, as well as the health and food policy researchers who studied it…I learned that some of the very things that made Michelle Obama sometimes appear soft — the industry collaborations, the emphasis on exercise — were part of the shrewd strategy that made her effective. Through her leadership, the Obama administration seized on a moment when America started paying attention to food, and made fighting obesity a top priority — both symbolically and legislatively.

Obama planted a garden, waged snappy social media campaigns, and worked behind the scenes with researchers, lawmakers, heads of government departments, schools, and food giants to quietly change what Americans eat.

Even observers who previously worried about Obama's food industry partnerships now called her advocacy "brilliant," "unprecedented," and a "godsend."
SAN FRANCISCO CHRONICLE
Sarah Fritsche writes about "how the Obama administration led an American food movement" and provides an extraordinarily impressive timeline of accomplishments from 2009 on.
These are impressive stats, but as the Obamas enter their final months in the White House, one is left to wonder what exactly will be the lasting impact and legacy of the administration.

In an increasingly divisive political scene, and with the November election up for grabs, it may be too soon to tell. While childhood obesity rates appear to be leveling off, says Nestle, it takes a long time to gather data and track results. And, although the food industry is on alert, if the incoming administration takes less of a watchdog approach, these strides in food policy and awareness run the risk of losing momentum.

"Will it be undone is the big question," says Nestle. "It depends a lot on who gets elected."