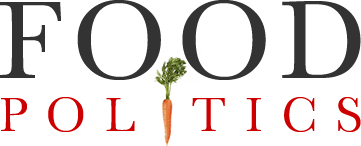 by Marion Nestle
The recent Academy of Nutrition and Dietetics' election: controversy over non-disclosure of industry ties
I've been asked to comment on the recent presidential election held by the Academy of Nutrition and Dietetics (AND—formerly the American Dietetic Association).
I'm not a member of the Academy, but I followed this election with great interest because one of the candidates (who ultimately lost) is a consultant for food companies but did not say so.
A member of the Academy called for transparency and posted the names of the candidate's clients on Twitter.  For this, she was severely criticized.
The only point at issue here is the need for disclosure.  Whether the lack of disclosure cost the candidate the election is hard to say.
Conflicts of interest caused by financial relationships with food companies are a big issue in the Academy, which has been struggling hard to develop policies that will protect it from conflicts of interest.
Andy Bellatti, of Dietitians for Professional Responsibility, had three questions for the candidates:
What are your thoughts on possible outreach strategies to bring dietitians who are currently not members of the Academy back into the organization?
How would you like to see the current conversation on corporate sponsorship continue over the next year?
What would you like to say to dietitian colleagues who want to see more robust criteria around exhibitor presence and session sponsorship at FNCE?
Unfortunately, neither candidate responded to them.  Their answers would have been instructive.
Much has been written about the politics of this particular election, all of it worth reading.