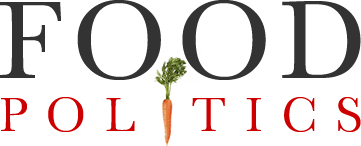 by Marion Nestle
The proposed organic "checkoff:" an analysis
The New Food Economy's Weekly Dish has a riveting piece about the debates over a proposal for an organic "checkoff" program.
Checkoffs are USDA-sponsored generic marketing and research programs for specific commodities.  They raise money from fees based on sales (the "checkoff") that can be used for advertising campaigns such as the the dairy checkoff's "milk mustache" or the pork checkoff's "other white meat."
Joe Fassler writes:
The proposed organic checkoff, technically termed the Generic Research and Promotion Order for Organic (GRO Organic), is unusual for many reasons, but the most unprecedented thing is this: rather than advocating for one single commodity, the program would represent a huge and diverse class of goods. …That means not just organic apple farmers and organic pple snack-peddlers, but organic cotton producers and organic chocolatiers, as well as organic winemakers from Napa and importers of organic white grapes from Chile. …Taken together, the fees are estimated to generate anywhere from $25 to $40 million a year for the industry to spend on advertising, consumer education, and research.

There's just one problem. Many organic farmers feel the checkoff is a bad idea….while checkoff programs tax an entire industry, they don't benefit all stakeholders equally. The organic program will have to overcome a stigma that plagues checkoffs generally: they serve the most powerful players, the processors and middlemen, at the expense of small producers. Checkoffs, simply, have a lot of baggage.
What that baggage is takes up most of the article.
If you want to understand checkoffs in general and the peculiarities of the organic one in particular, this is the place to begin.