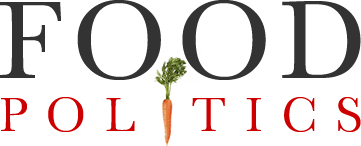 by Marion Nestle
The President's Budget: What Does it Mean for Food Politics?
The President announced his budget last week.
I've been asked to comment on what it means for food programs.
My quick and dirty answer: small-minded and mean-spirited.
The document lacks crucial details essential for interpretation, so you can only guess.
For USDA, for example, the document says the 21% cut in its budget:
Fully funds the Food Safety and Inspection Service.
Provides $6.2 billion for WIC (that's a few hundred million below what it gets now)
Provides $350 million for USDA's competitive research program(that's about what it got in 2016)
Reduces USDA"s statistical capabilities (it doesn't say by how much)
Eliminates the McGovern-Dole International Food for Education program.  This program is tiny—$200 million in 2016–but it reaches more than 2 million people.  Will cutting McGovern-Dole make America great again?  Hard to imagine.
It cuts FDA's department but says nothing about FDA's food or food safety programs.
One problem is that you have to know how to read these things.  For example:
The budget eliminates or sharply reduces Meals on Wheels, the program for senior citizens.  This is because it eliminates the Department of Housing and Urban Development's $3 billion Community Development Block Grant program.  Why get rid of it?  They say because it's not proven to work—but it does.
The National Institutes of Health will lose $6 billion.
The cuts are in programs that can be cut, the smaller and most vulnerable.  Hence: small-minded, mean-spirited.
Urge your representatives to resist!
Addition, March 21
Do not miss John Oliver's analysis of this budget