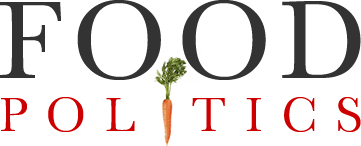 by Marion Nestle
USDA gets its "harvest boxes" at long last
Remember "Harvest Boxes"?  This was USDA Secretary Sonny Perdue's method for replacing SNAP benefits with boxes of food commodities (see my much earlier post on this).
The idea was widely ridiculed at the time (impractical, logistically expensive, condescending), but the Covid-19 pandemic has resuscitated the plan.
It won't be called Harvest Boxes.  Instead, welcome to the $3 billion "Farmers to Families Food Box Program."
Agricultural Marketing Service's Commodity Procurement Program will procure an estimated $100 million per month in fresh fruits and vegetables, $100 million per month in a variety of dairy products, and $100 million per month in meat products. The distributors and wholesalers will then provide a pre-approved box of fresh produce, dairy, and meat products to food banks, community and faith-based organizations, and other non-profits serving Americans in need.
It comes with an Infographic.
How will this work?  USDA has an FAQ page.
Q. Please explain the goal of the government regarding execution of these contracts?

A.  The prime contractor receiving an award is responsible for all aspects of contract performance. The aspects of performance include but are not limited to sourcing product for inclusion in boxes, conducting all aspects of preparing the boxes, sourcing and communicating with non-profits and transportation and final delivery of boxes to the non-profit on a mutually agreeable, recurring schedule.
What does this mean?
Contractors will acquire dairy, meat, and/or produce, pack it in boxes, and deliver those boxes to food banks, which will then distribute the boxes to people seeking food.  This puts food banks—charitable organizations largely run by volunteers—on the front line of food assistance.
Should we be doing this?
I'm not the only one thinking this system is logistically absurd and just plain wrong.
Matt Russell, Robert Leonard and Beto O'Rourke, writing in the New York Times, say "Americans Are Lining Up for Food. What Is Team Trump Doing?"
Funding food banks while not expanding food stamps…is a solution driven by ideology rather than practicality. We have great respect for these organizations, but food banks aren't up to feeding tens of millions of hungry Americans indefinitely.  We already have an amazingly efficient and effective program to do this. The Supplemental Nutrition Assistance Program (SNAP), formerly known as food stamps, empowers Americans in literally hours and days to go to their local grocery store and get the food they need.
What's supposed to be in the boxes?
The USDA explained in its solicitation document what it is expecting to get.
Who is getting the contracts?  Look them up here.  United Fresh, which represents fruit and vegetable growers, has questions about the selection process.   And farmers are asking: how is it possible for companies with no warehouses or storage capacity to prepare boxes?
But that's not all. 
The USDA also announced an additional $470 million in food purchases for donation to food banks for delivery in July.
As for benefit for farmers, FERN's AgInsider reports:
"USDA is working as quickly as possible to implement CFAP," said the spokesperson. "Signup for the direct assistance is expected to begin by the end of May. USDA proposes to use a $125,000 payment limit per commodity, with an overall payment limit of $250,000 per individual/entity and a $900,000 adjusted gross income limit for individuals who do not derive 75 percent or more of their income from farming."
I'm interested to see how this works, in practice.  We should know in a couple of weeks.